"La Veranda" Restaurant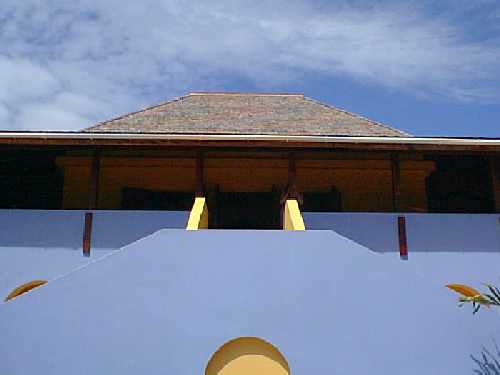 www.news.ai Site Map Click to enlarge pictures
Anguilla has a colourful new building in a tropical style, and it serves food in a Caribe Mediterranean style.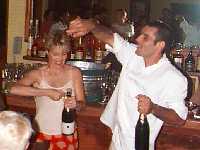 La Veranada opened for business recently in Sandy Ground and we went to the unofficial opening, where proprietors Anastasia ("Stacey") and Didier Rochet toasted us with champagne. Stacey grew up in St Kitts and Anguilla and her husband Didier is a highly successful chef from France.
The prices are low for Anguilla and the quality is high. Even though chef Didier is a trained French chef and has worked at Malliouhana and Cinammon Reef, this is not nouveau cuisine -- the portions are generous. From personal experience I can recommend the Mango Gazpacho Soup $6, and the Curry Chicken Pot Pie $16, which has a light French Provencal crust and assorted condiments for dipping. They also have my favorite dessert, Creme Brulee $7, rich and creamy with a nice ginger flavor.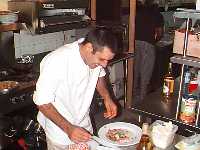 The setting itself creates a unique ambience, with open dining verandas on all four sides and a high pitched center roof enclosing a Tapas bar/lounge area. The surrounding gardens are already lush and green -- every table has a view over the balcony into the garden. The lounge has congenial sitting areas and comfortable seating, with an antique glass chandelier from St Kitts.
La Veranda is a family venture. Stacey is the hostess, Didier is the chef, mother Denise organizes the back office, and Jerry Brown (Denise's husband, who runs the Anguilla Garden Center next door) does the landscaping Even the children helped out, working furiously to get La Veranda opened before the tourist high season is over.
Telephone: 1-264-497-2225. Open every day. Future plans include lunch, and breakfast.
Directions: From the airport parking lot, take the only exit and turn left, then left again and drive back past the airport. Go straight through the roundabout and west down the main road. Turn right at the next roundabout and drive down toward Sandy Ground. Partway down the hill, turn right at the sign for La Veranda restaurant.
Summer 2001 Menu
Lunch at La Veranda restaurant

SOUPS


Conch chowder with potatoes, onions and bacon. 8.00
La Veranda fish soup with cheese, Garlic rouille and toast. 8.00
Pumpkin & Crab soup with lemon grass & ginger. 9.00

SALADS


Goat cheese, walnuts & apple with a honey balsamic dressing 12.00
Ceasar salad with anchovies, parmesan & garlic croutons 9.00
Shrimp and tropical fruit salad in a mango dressing. 14.00
Mixed garden greens with balamic vinaigrette. 8.00
Chicken & pineapple salad with mixed greens. 12.00
Fresh crab salad with sesame seaweed & anchovy sauce 14.00

SANDWICHES


Grilled Steak and Onion baguette with garlic mayo and salad 12.00
Hamburger (home-made) with bacon, cheese, onions & fries 12.00
Fresh Marlin & vegetable baguette with garlic mayonnaise 1500
Grilled Chicken, onions & Gruyere cheese on a sesame bun 11.00
Grilled Bacon, lettuce and tomatoes on whole-wheat bread 8.00

HOT DISHES

Grilled rib-eye Steak with Peppercorn sauce & scalloped potatoes. 20.00
Stir-fried chicken in a red curry sauce with basmati rice. 18.00
Baked stuffed Eggplant with parmesan cheese, tomatoes & herbs 10.00
Salt fish and Ackee served with Johnny cakes & rice n' peas. 16.00
Catch of the day steamed with peppers & onions over rice 'n peas. 18.00
Grilled swordfish with fruit salsa and sweet potato mash. 22.00
Shrimp fettuccini with a spicy garlic & lemon cream. 18.00

OUR DESSERTS

Knickerbocker glory -Vanilla ice-cream layered with fruits, -drizzled with fruit sauce & topped with chantilly cream. 9.00
Iced banana nougat with a hot chocolate & cinnamon sauce. 8.00
Tiramisu a l'orange with espresso sauce. 9.00
Fresh Ice-creams & sorbets, Ask for available flavours. Scoop - 2.00

Coffee 2.00 Espresso 3.00 Cappuccino 4.50 Pot of Tea - reg. or fresh Lemongrass 3.00

Please note that all prices are US dollars & 15% Service Charge will be added Visa & Master cards accepted

La Veranda Dinner Menu

SOUPS & APPETIZERS

· Ground provision soup with pumpkin, lemongrass, ginger & petit dumplings. 7.00
· Spicy conch chowder simmered with bacon, parsley, garlic & potatoes. 8.00
· La Veranda "fisher-mans catch"- with rouille, gruyere cheese & garlic toast. 9.00
· Shrimp & tropical fruit salad in a pastry basket with mango vinaigrette. 12.00
· Provencal tomato, zucchini & cheese tart baked with garlic & basil oil. 9.00
· La Veranda garden salad with mixed greens tossed in vinaigrette. 8.00
· Swordfish carpaccio served with lime juice, olive-oil & marinated sweet peppers. 11.00
· Baked eggplant stuffed with parmesan, tomato-garlic sauce & herbs. 7.00
· Crab, sesame seaweed & pink grapefruit tian with anchovy dressing. 12.00

PASTAS

· Roasted sweet peppers, vegetables & pine-nuts on angel-hair with olive oil. 14.00
· Grilled chicken in creamy cepe mushrooms with home-made pasta. 17.00
· Shrimp & vegetable kebabs with fettuccini in a tangy lemon-garlic cream. 22.00
· Crab & plantain lasagna baked with a rich tomato sauce & gruyere cheese. 20.00
· Creole conch in tomatoes, garlic & peppers on conchiglie shells. 18.00

FISH

· Grouper rolled in cracked coffee & grilled with peppercorn & cocoa sauce. 25.00
· Sesame roasted salmon in a fruity curry sauce with coconut & mashed potato. 21.00
· Grilled Mahi-mahi served with sea-weed rice & anchovy butter. 22.00
· Swordfish pan-sauteed with tomato-pineapple salsa & sweet mashed potatoes. 25.00
· Tuna filet in a creamy sea-urchin & shallot sauce with basmati rice. 26.00

MEATS

· Chicken & vegetables stir-fried in a sizzling sweet 'n sour Asian curry. 19.00
· Rib-eye steak in a pepper-corn sauce with vegetables & garlic-potato gratin. 22.00
· Cassoulet - Duck, sausage & smoked pork with haricot beans in tomato sauce. 26.00
· Spicy breaded lamb chops in a cumin-shallot sauce with olive-mashed potatoes. 27.00

SOMETHING SWEET

· Chocolate "impulse" with vanilla Ice-cream & passion-fruit sauce. (10 mins.) 9.00
· Tiramisu with Grand Marnier, espresso & orange zest on a coffee bean sauce. 7.00
· Ginger crème brulee on a bed of fresh pineapple with a caramel topping. 8.00
· Zesty lemon curd tart baked in an almond crust & exotic fruit puree. 6.00
· Selection of fresh ice-creams & sorbets, ( please ask server for menu )

*Please note that 15% service charge will be added. Visa & M-card accepted

Revised: May 02, 19101

---
Subscribe to the Anguilla News for faster information and bonuses: Click Here.