B.E.T. Summer Tennis Camp
www.news.ai Site Map Click to enlarge pictures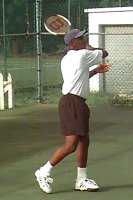 The Anguilla Tennis Academy, organized by Mitchelle Lake and Shawn Romney, begins on July 6th, 1998. This tennis camp is sponsored by Black Entertainment Television (BET) through Mr. Robert Johnson (Chief Executive Officer and Chairman). Tennis camp accommodates all kids ages 6-18 for morning sessions and adults for afternoon sessions. This is the third summer for the camp. The first year drew 70 children, the second 120, and no one knows how many this year!
Mitchelle Lake and Shawn Romney are two Anguillian students on tennis scholarships at Gardner-Webb University in Boiling Springs, North Carolina. They are both keen to promote the game on the island and are devoting a considerable amount of their vacation time to pass on their skills to Anguillian children.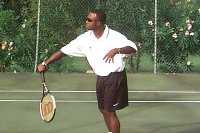 According to Mitchelle: "I am excited about this year's camp. The tremendous support shown by both local and international businesses towards the program depicts promise for the future of tennis on Anguilla". (First picture.)
Shawn also expressed his enthusiasm: "This year's tennis camp is a great opportunity to choose the future candidates to represent Anguilla in local, regional and internationl tennis tournaments". (Second picture.)
Assisting at the tennis camp will be Damien Hughes (Tournament Director), Twana Edwards, Corey Bowlin (Tennis Director at Malliouhana Hotel), Elizabeth Gibson (Tennis Director at Cap Juluca Hotel). In addition, four tennis players from Gardner-Webb University will be coming to Anguilla from July 19th - 26th. They will be participating in the tennis clinics and exhibition.

Be sure to support the tennis camp this year and visit the public tennis courts in The Valley during the month of July. Anyone who would like to help can phone Mitch at 1-264-497-3234 or email Shawn at axa67@hotmail.com
Read this followup news story too.

Guest article by Tara Carter
Revised: September 19, 1998
---