Budget Travel: Try Sydans
www.news.ai Site Map Click to enlarge pictures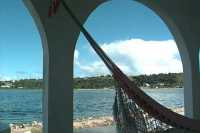 Anguilla is known for its luxury resorts and villas. I'm often asked if there are any more reasonably priced places to stay. Of course there are. There are numerous small inns and guest houses, mostly owned and operated by local Anguillian families, that offer a clean, comfortable lodgings.
Sydans apartments on Sandy Ground is an example. The units are located on the salt pond, across from Johnnos restaurant and bar. Apartments feature full kitchen, private balcony, air conditioning, and they are located just across the street from the Sandy Ground beach. The picture here was taken from the porch of one of the units that face the pond.
If you stay in a local apartment or guest house, you get to meet lots of friendly local people, take part in local activities, and have an authentic, Caribbean the-way-it-used-to-be experience. For example, your hostess at Sydans, Ann Edwards, is also the principal at the middle school.
Sandy Ground is the closest thing Anguilla has to a quaint tropical seaport. It has a long, protected sand beach without surf, and with numerous places to eat (Ships Galley, Barrel Stay, Ripples) and Johnnos and the Pumphouse for entertainment. Sandy Ground is where most holiday boat races start and end.
Sydans rates start at $75 per night in the summer, $90 in the winter, plus 10% tax and 10% service charge. They have a web page at inns.ai/sydans Telephone: 264-497-3180. Cel: 235-7740. Email: [email protected]
Revised: 2002/9/12

---

Enter some keywords


Subscribe to the Anguilla News for faster information and bonuses: Click Here.