Sweet Potato Pudding
www.news.ai Site Map Click to enlarge pictures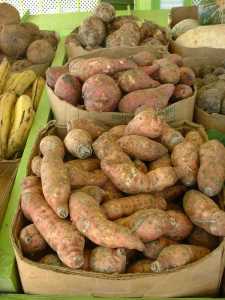 The Caribbean is known for tasty cuisine. Some dishes date back to the culinary traditions of days gone by. Try your hand at this recipe for a dessert made from a common vegetable grown in the region known as the sweet potato.
2 cups sweet potatoes (boiled in water with a touch of salt, and then mashed)
1 cup sugar
1/2 cup melted butter or margarine
2 egg whites, beaten stiff
6 egg yolks, beaten
1 1/2 teaspoon lime or lemon rind, grated
1 cup orange juice
1/4 teaspoon nutmeg OR 2 tablespoons rum
Preheat oven to 350 degrees.
Combine all ingredients, except the egg whites, and beat well. Carefully fold in the beaten egg whites; pour into a greased baking dish. Bake for about 1 hour or until set. Nutmeg or sliced citron may be sprinkled on the top before baking.

Story and pictures by Janine Edwards
Revised: 2002/2/4
---

Enter some keywords


Subscribe to the Anguilla News for faster information and bonuses: Click Here.