Sophie Does Hair
www.news.ai Site Map Click to enlarge pictures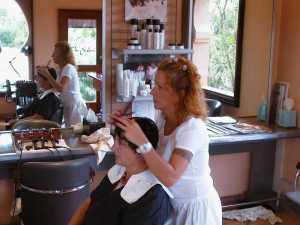 Anguilla has an excellent French hairstylist at the Sonesta Resort. And you don't have to be a guest at the hotel to use her services. In fact, you don't even have to be a woman. She gives a great man's haircut as well.
Sophie Le Guellaff worked with Jacques Dessange when he operated the salon at Sonesta. When Jacques decided to move on, Sophie took over at Sonesta.
Open 9 til 6. Closed Wednesdays and Sundays. To make an appointment, telephone 1-264-497-6999.
Revised: 2000/3/25

---