Gorgeous Scilly Cay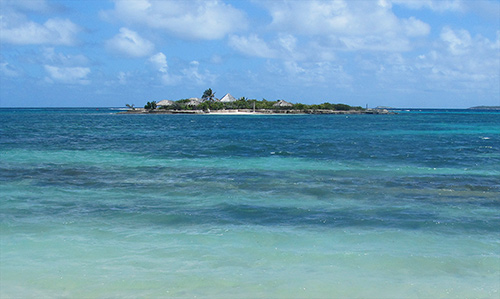 www.news.ai Site Map Click to enlarge pictures
Nestled in the culturally rich community of Island Harbour is an island of fine dining, authentic Caribbean music and exceptional service. That island is Scilly Cay.

One of the most famous tourist places in Anguilla, this restaurant / tropical playground is owned by Sandra and Eudoxie Wallace. We live less than a mile away and always meant to go out for lunch, but Hurricane Luis swept the little islet clean, except for one cabana with a concrete base. Eudoxie flew to Guyana, bought super-strong greenheart for rebuilding, and chartered a boat to bring it to Scilly Cay. They reopened in January 1996 for a special wedding party and have been back in business since.
If you're coming to Scilly Cay from the west, it's less than 30 minutes away. It really is the ideal spot to spend a whole.
You drive to Island Harbour and wave from the dock out to a tiny island just 150 yards away. A water taxi will scoop you up and take you from the port to Scilly Cay (and back later). Or you can ask one of the fishermen at the port, everyone's really friendly.
The launch speeds over to carry you quickly to Scilly Cay. We went for lunch and snorkelling this summer and had a great time. The tropical fish are definitely back. We were so carried away that we swam all the way around the island, but I don't recommend it. The best reefs are right behind the restaurant- the long swim the rest of the way around to the sand is a lot of work and adds little to the viewing.
So, do bring your snorkelling equipment because the reefs surrounding Scilly Cay and the tropical fish who've made their homes in them will captivate you for hours.
The menu at Scilly Cay is simple: lobster, chicken, lobster and chicken, or lobster and crayfish. The portions are large, the spices are delicious, and the presentation is tropically elegant. Don't ask for a Pina Colada -- they don't have a blender because there is no electricity (and no motor noise either!). That means everything is grilled fresh!
Update: Fresh snapper has been added to the menu, but reservations for this would need to be made no less than 48 hours in advance.
Service is incredible: the staff and owners greet you personally as you arrive, ask your first names, and remember them. And Dumpa entertained us (quietly) on the steel drums.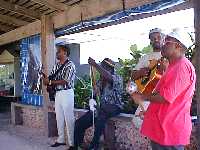 Prices are high (entrees start at $35), but worth it for a special treat. Popular for weddings and special outings--people arrive by helicopter from St. Martin. I was pleasantly surprised. Only open Wednesday and Sunday. Telephone 264-497-5123. Email: [email protected]
Notes From November 1998 & Earlier
Gorgeous Scilly Cay has roared back into operation before the tourist season is really even at a high pitch. On the weekend they now have a full crowd, with live music, crayfish, cool drinks, swimming, snorkeling, and sunbathing.
This year the owners Eudoxie and Sandra have have added a fish dish and salad to their simple, but elegant menu. Business is booming. They have live Caribbean music on Wednesday, Friday and Saturday.
Chef's Pick
American Way magazine's Robb Walsh asked Robert Keller, Chef/Owner of Fleur de Lys Restaurant, San Francisco, his favorite restaurant:
"One of my favorite restaurants in the world is on a tiny island in the Caribbean. The island and the restaurant are both named "Scilly Cay". You can catch a boat from Anguilla or St. Martin; it's a short ride. The best thing to get is the huge Caribbean lobster, which they split in half and cook on a barbeque pit. It's hard to keep Caribbean lobster tender, but they get it right every time. At lunch, you get a table, order your meal, and then go hang around on their beautiful little beach. You can even bring your snorkel gear if you want. When they have a band playing and the place really gets cooking."
Questions from a Reader
Our article on Scilly Cay generated the following questions from Brendon:
I will be visiting Anguilla between 20-27 October, 1997. And, I am very excited to visit Scilly Cay. However, I recently read a passage on the internet that Scilly Cay is only open on Saturday and Sunday only during the summer? Is this true? Could you please provide the days and hours of operation? How much the outing will cost for two? And, do I need to bring my own snorkeling gear or is it provided for me on the island? Finally, do you recommend that I make reservations?
Yes, Scilly Cay, like many places in Anguilla, cuts back operations in September. They go back to full schedule on Wednesday, October 15th. They are open around 11am until 5pm, closed Monday. They don't stay open after dark except for special events, as Scilly Cay does not have electricity. You should budget about $100 for a couple if you plan to eat. If you are on a strict budget, you can just go over for a drink. Everyone will be just as gracious to you. You should bring your own snorkel gear. Reservations are not required, but are accepted for large parties.
Revised: October 9, 2013
---