Sapphire Restaurant
www.news.ai Site Map Click to enlarge pictures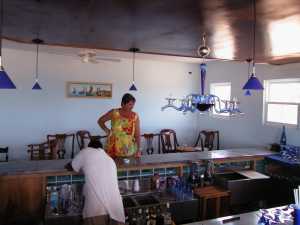 On the road into Cap Juluca there is a new restaurant. The Tourist Board has information about the new Sapphire Restaurant overlooking Maundays Bay on their News and Events page:
Formerly of Cap Juluca's Pimms restaurant, owner Pedro Marlin and chef Rexford Fleming teamed with Anthony Bryan, formerly of Cap Juluca's George's restaurant, to create this gem of a place. ... The menu is a creative fusion of Caribbean and European culinary styles with a heavy focus on seafood. Mr. Fleming combines capers, fresh lemon and tomatoes to create a delicious Anguilla Crayfish Salad appetizer.
A frequent Anguilla visitor has posted a short review of this new restaurant to the Anguilla Anguilla Tête-à-Tête forum. If you have tried Sapphire and want to add your comments, Click Here.
This new restaurant opened less than a month ago and, although we didn't get to try it for dinner, we were their first guests for lunch and think this place is going to be a comer. Visually, it is quite appealing with it's whitewash throughout and its bold accents of appealing blues picked up in decorations, glassware, etc. hence the name Sapphire. The owner, Pedro, used to be the maitre d' at Cap Juluca and learned his lessons well. Try their vegetable pizza. Quite different in its crust, quite appealing in its taste. The view is charming too with sights of Marigot and St. Martin.
Sapphire Restaurant
Telephone: 1.264.498.8000
Sapphire Menu (Spring 2000)
APPETIZERS
Vegetable Soup 8.00

Crayfish Salad 12.00
with capers, tomato and a fresh lemon juice

Grilled Marinated Chicken Salad 12.00
with vegetables and plantain chips

Mixed Green Salad 8.00
house salad

Seafood Salad 12.00


Shellfish Spring Roll 12.00


Tomato and Mozzarella Salad 10.00
with pesto

Tuna Carpaccio 8.00


Warm Mushroom Salad 12.00
with balsamic vinegar served with shoe string potatoes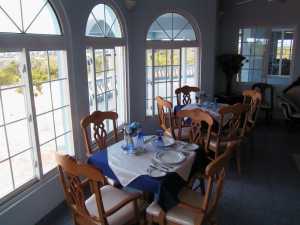 ENTREES
Crayfish or lobster risotto 26.00
in a light lobster sauce
Grilled Crayfish 28.00
served with rice, vegetables and a lemon butter sauce
Grilled Swordfish 24.00
served with house vegetables and a fruit salsa
Parrot Fish 24.00
breaded with almond crust in a light tomato sauce
Sauteed Salmon 26.00
with crushed chive and potato with a champagne sauce
Seafood Panache 28.00
grilled crayfish, pan seared salmon and stewed squid
Tuna Provencal 26.00
grilled tuna with stewed vegetables
Penne Pasta 20.00
with sauteed shrimp in a light white wine sauce
Chicken Sausage 24.00
stuffed with spicy stewed conch in pumpkin curry sauce
Grilled Sirloin 28.00
served with vegetables and sauteed mushrooms
Roasted Rack of Lamb 28.00
served in a ratatouille in garlic and fresh thyme juice
Sauteed Veal Medallions 28.00
with zucchini, carrot and tomato puree in a passion fruit and wild sage sauce
Surf and Turf 30.00
half tenderloin and half lobster with a carrot puree and served with a red wine sauce
(crayfish and lobster dishes are subject to availability)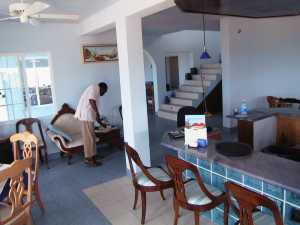 DESSERT
Assorted Ice Cream and Sorbets 6.00

Cheese Cake 6.00
with strawberry and rasberry sauce

Stewed Fruit 8.00
topped with vanilla ice cream

Prices are quoted in U.S. dollars and a 10% service charge will be added.

Directions: from the airport parking lot take the only exit and turn left, then left again past the airport entrance, straight through the roundabout, and west down the main road of the island. Go straight at the next roundabout and follow the road for about 10 miles. After passing Lydia Semaria's art studio and La Sirena, turn left on the next paved road. Just before the entrance to Cap Juluca resort you will find Sapphire Restaurant on the right.

Revised: 2000/5/25

---