NBA Sponsors Primary School Football
www.news.ai Site Map Click to enlarge pictures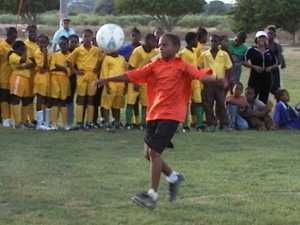 Friday, October 26, 2001, brought an afternoon of festivities to Webster Park, with all island primary schools bringing out their football players for the opening ceremonies of the primary school league in it's 13th year of sponsorship from the National Bank of Anguilla. The ceremonies brought words of encouragement to all the players, coaches and family memebers from NBA CEO Val Banks (picture below).
The Honourable Minister of Lands and Social Services Mr. Eric Reid, reminded players, parents coaches and all participants the importance of sportsmanship and the lessons learned on the football pitch of hard work can bring rewards later on in life.
The highlight of the opening ceremonies was the football juggling competition, whereby each school put their best boy and girl forward to keep the ball in the air using any part of their body other than their hands.
Aidan Scipio of Teacher Gloria Omololu School, won the boys competition with an impressive 161 contacts of the ball (top picture). Aidan kept the ball in the air for quite a long period of time and in very close control.
The girls competition was won by Cynthia Lake of West End school.
There will be games every Monday, Wednesday and Friday (4pm - 7pm) evening from now until the playoffs in mid November, so come on out and support the young footballers of Anguilla.
Story and pictures by Neil and Aly Armstrong.
Revised: 2001/11/1
---

Enter some keywords


Subscribe to the Anguilla News for faster information and bonuses: Click Here.