Tribute To Pressure King
www.news.ai Site Map Click to enlarge pictures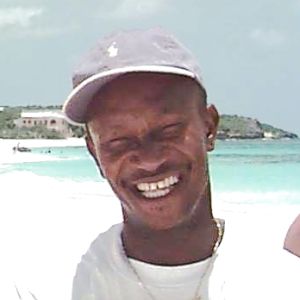 A memorial service was held for Pressure King (aka Roger Clarke) at 2 Brothers Funeral Home on Saturday, September 27, 2003. Pressure, whose bright smile and friendly personality made him the Ambassador of Shoal Bay, will be buried on Nevis, where he grew up.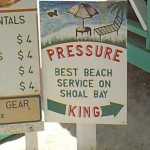 Pressure King always went out of his way to make everyone feel welcome on Anguilla, which is my so many are now griefing over his death. The Anguillian newspaper reported that his "body was found at his residence at Old Ta on Sept 18, where he was shot by an assailant. The police are now carrrying out an investigation into his murder."
Roger will be missed.

Visitor Kathy Francisco, a frequent visitor to Anguilla, suggested this tribute and contributed the 4 pictures below:
Just one month before Pressures tragic death we took some photos at the Pump House. I am sure everyone would appreciate a "tribute" to PK on the web site. In advance, I thought I would share some of the photos we took. Pressure was the first "islander" we met on the island 12 years ago and will be sadly missed by everyone! Kathy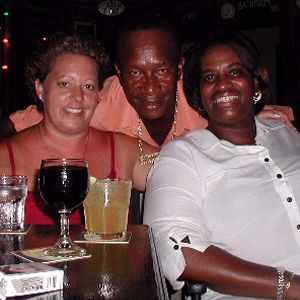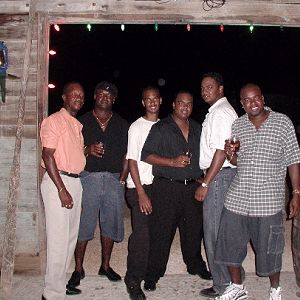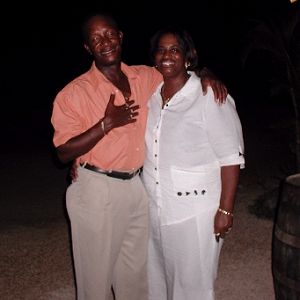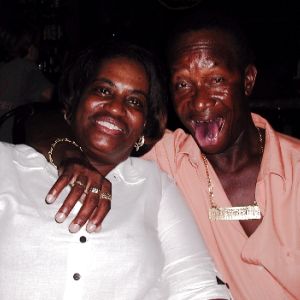 More Tributes
James: I literally have chills right now as I read of Roger's murder. How someone could do something so horrible to such a wonder man is just unfathomable. His kindness and generosity made our trip to Anguilla even more memorable and special than he could ever know. He gave my wife a beautiful conch shell and refused payment for it, after he heard her say that she had searched the beaches, but found nothing unbroken. He let us use his beach chairs and refused to accept payment. We can't describe Anguilla to our friends without telling the story of Pressure King.
He invited us to share his special part of the world and expected nothing in return but to see the wonder in our eyes. He was truly the ambassador of Anguilla and was a fine representative of all the island and its people. The shell he gave us sets in our living room as a constant reminder of the time we spent in the wonderful nation of Anguilla. Now it also serves as a tribute to the wonderful man we had the opportunity and pleasure to know. God Bless Pressure King.
Shari and Dale: We were very saddened by the news of our friend Pressure King. He was such a special person, and so loveable! Our memories of him are so vivid to this day. A few years back, he baked me my birthday cake and had a little party for me at Uncle Ernies, along with a great dinner for Christmas eve. The last time we shared with him was for our sons wedding on Meads Bay on December 4th-2002. He will be so very missed by all that knew him. May god bless him and his family. I'm sure we will all meet once again. Heaven is sure lucky to have him! Love you Pressure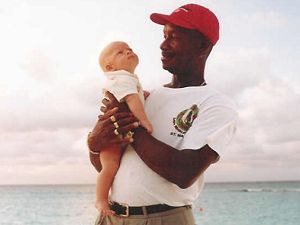 Scott: I just read the news about Pressure King. Attached is a photo I took of Pressure last year at Shoal Bay.
Frank: It is with great sadness that I read about the death of Pressure King. He truly made your island something to dream and yearn for. His smile and warm reception of all people and visitors was what Anguilla is all about. He always would go out of his way to make sure you were having a good vacation and help you through any difficulties you were having on the island. I remember one time when my children were overcharged for braids on the beachby a non-local. He made a phone call and the next day at Uncle Ernie's they had their money returned, No Questions Asked. That was the kind of guy he was. He didn't have to get involved, but he did.
Elsie: I am so deeply saddened by the loss of this loving gentle soul. I have traveled to Anguilla more times than I can count over the last 20 years. Pressure has truly been the ambassador for Anguilla even though he wasn't born on the island. His smile and warmth and friendship was always there to greet the friends and new visitors to the island. There are so many memories flooding back of riotous laughter, dancing at Johnnos, drinking, dinners cooked by him, sitting under the umbrellas talking about our lives and aspirations and dreams. His love of life was boundless. I hear his voice greeting folks saying, "Respect" with his island handshake. I would make him laugh by greeting him as "Roger, the Fantastic, Bombastic, Romantic, Prrrresssure King!". That's how he introduced himself the first time we met! How do you not bond with him after that!
I wear his Pressure King shirt in New York and get stopped all the time by folks who lovingly gush about Pressure King and how he made their vacation such memorable fun by being such a unique character. I know that his name is spoken all over the world by all the friends he made. Reading all the tributes that you have posted pretty much saids it all. He has left so many people with joyful and fun memories because he was such a special man. All of us that had the delight and honor of knowing him are the richer for it. He will always have a special place in my heart and I know that God has a smile on his face because one of his angels has gotten his wings. To you Pressure I say, Love & Respect.
Joyce: I can't tell you how shocked and sad I was to hear about the death of Roger the "Pressure King" - I was in Anguilla a few years ago with a friend who had been there many times before and was introducing me to the Island.. and him. He loved my friend and embraced me with such a warmth and good humor. I have a t-shirt that I wore with his name on it just this summer in NYC and was appproached by someone who said .."I know him"... and we chatted for a bit about how great he and Anguilla is ... I hope the authorites find out who did this .. he was such a great friend to tourists and his friends on the Island .. my thoughts go out to his family and friends... his smile, his personality, and his genuine love for Anguilla will be forever missed .....
Jack & JoAnne: Jack and I married on Anguilla, June 1996 ... how spectacular our wedding was ... all the people I met and became friends with and one of those special people was Pressure King. This man (PK) joined in the dancing and made our day a local event. He came running to me moment after a small rain shower and grabbed my hand and pulled me out on Shoal Bay only to show me a wonderful rainbow over us. He explained to me what good luck it was to have a rainbow on your wedding day. His smile was bright and he was just like a child letting me know how lucky I was. Since then, Anguilla and Pressure King go hand and hand. He has been a true friend, and was due to visit us here in the Mass. We had dinners and drinks with him every year we come, we enjoyed Carnival with him and Bev a year ago and we are at a loss. The news came to us only a short time after Pressure King was found and it truly hurt. This January when I sit on the beach at Bev's place...Jack and I will have many thoughts of him, and there will be a sadness in the day. He was truly our friend and he will smile down on us and be happy we are thinking of him. Our tribute to a dear friend.
Sabrina: He was a good man who looked out for his friends and strangers alike. I was just in Anguilla again for carnival and Pressure checked in with us nightly just to make sure we were ok.. He didn't have to but he did because that is the type of guy he was..... Pressure will be missed by many people, tourists & locals. And out of respect for those who did have fond memories and loved Pressure To all of Pressure's friends and family my heart goes out to you.......
So, Pressure, dear friend I will miss you, I will always keep you in my thoughts and your presence in Anguilla will sorely be missed..... Pressure, have a drink in heaven with Lee for me.......
Steve: I have lived in Anguilla for 2 years and can say with great pride that Pressure King (Roger Clarke) was my good friend and neighbor. But most of all he was a man with a big heart who really loved people. I used to watch in amazement as he'd approach some unsuspecting tourists and ask where they were from. They would tell him and more often than not he had been there and knew all the hot spots of the area and would tell them how he had been there and had a great time with his friends and then he'd go and get his pictures of that trip. Most would look at him with great skepticism waiting for the sales pitch to come. There was no sales pitch, he just loved people and his interest came straight from the heart.
People would leave Shoal Bay with the feeling that there would always be a friend there when they returned. As a friend he was always there for my wife and I when the car needed a jumpstart or we needed a lift. He spent 45 minutes on his hands and knees in the sand with a hammer and screwdriver trying to get the conch out of a shell for my 2 boys. He cooked fantastic lobster dinners for my family and friends and when my marriage was in trouble he used to call me late at night just to make sure I was ok. He was the Ambassador of Shoal Bay, he was a character that touched the lives of so many, but most of all he was my friend! With no Pressure there will be a lot less pleasure in Anguilla. My friend, you were a good man with a big heart and we will always miss you.
Sarah Kenworthy:
I Didn't Know
I didn't know how much I loved you
I didn't know how much I cared
I didn't know how much I'd cry for you
Till you were no longer there

I didn't know my arms could ache
I didn't know my soul could tear
I didn't know my heart could break
Till you were no longer there.
Diane: How lucky for me that I was able to visit with Pressure the week before his tragic death. Oh, how I loved him. When on island he would cook us lobster and his awesome rice and peas. We would talk, drink, dance and laugh. Pressure would proudly show me his many photo albums of friends and places he had been. On September 12th, my last day on the island, we hugged and I told him how much I loved him. I was brought up to judge people by how they treat me, and not to take stock in rumors or gossip. Pressure, in my eyes, was fabulous and it was my good fortune to have been able to share so many wonderful, happy moments with this incredible man. PRESSURE...I LOVE YOU! God Bless.
Christy: A smile that could light up the world, the eyes of a child, always seeing the best in people and generosity unmatched by others. My firend, my brother. I will miss you beyond words. What a dancer, what a chef . A true lover of life and all it has to offer. I can't imagine Shoal Bay with out you. Baaayybeeee. You are loved by so many. I find a small comfort in knowing that you knew we loved you. RESPECT.
Brooks: When we were in Anguilla two months ago, pressure added so much enjoyment to our trip. We met about six couples who all spent time with pressure and he truely made the trip more fun. He even gave all the ladies free tee shirts Prayers to his family.
Danno: We visited Anguilla for the first time last October. Our first evening we were having a drink at Uncle Ernie's waiting for the sunset. I had heard of the "green flash" but had never actually seen it. PK assured us that the conditions were right for the flash & sat with us to ensure we wouldn't miss it. He was so happy to be able to share that moment of excitement with us. Pressure King, may your beach in paradise be even whiter & purer than Shoal Bay!!
Sue and Lenny: We spent one of our most special days ever with Pressure on his boat he took us to prickly pear for the day played Bob Marley tunes drank rum punches a very nice memory. Also spent lots of time at ernies having long talks, we turned 40 together and as I felt a little down about it Pressure said we would be FOREVER YOUNG BABY! We will miss him so much he is the first person we look for when we arrive. Anguilla will never be the same
Jack and Caryn: We will be in Anguilla in February and will miss our morning walks on the beach as pressure sets up his little world of fun for all of us..Sunset will not seem quite right in front of Uncle Ernies without that special guy.
Bonnie: Last month was our 8th visit to Anguilla. PK was the first friend that we made there. One of the great joys of each trip was our first day at Shoal, we'd sneak up and surprise him. We had a lot of good talks over a Heineken. He made the sun shine over Shoal Bay. He will be very, very missed.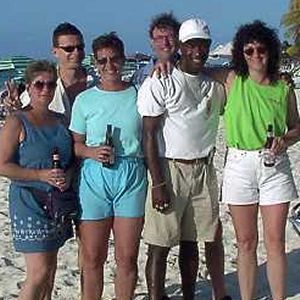 Carol: So very sad to hear about Pressure King. He will be truly missed on the Island . He was the ambassador of good will and kindness. I remember him as always being a kind and gentle person that I called my friend. Anguilla will not be the same without him. My condolences to his family and friends.
Marion: As a visitor to Anguilla, it was my great joy to meet him and talk with him. His smile, bright as the Anguillian sun, is a memory that no photo of him could ever capture.His personal kindness to me, is something I will always remember. I would like his family to know that he will be remembered...always...with love and a smile. My thoughts and prayers are with you....
smds@adelphia.net: PRESSURE KING was a very kind hearted man, who did everything in his power to make everyone feel special. Pressure was a part of our family, He has come to our home and stayed with us, We would have dinner together when we were in Anguilla, We would go to his house and he would cook us one of his great dinners, and we would eat, drink, and dance, what a great time we all had.
Revised: 2003/10/20

---

Enter some keywords


Subscribe to the Anguilla News for faster information and bonuses: Click Here.