) are hosting this event which offers another venue for music appreciation and a great "lime"! James is the Main Music Man. He has been DJ'ing the Thursday Night Jazz Show on Radio Anguilla along with Johnno over the past year. His love for music developed while living in England where collecting Classic Oldies and Jazz vinyl albums became his main hobby. His repertoire of music now includes about twelve different varieties: Soul, Funk, R & B, House, Garage, Jazz, Latin Jazz, Lovers Rock, Roots Reggae, Ragga and Rare Grooves.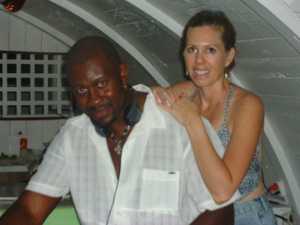 Tuesdays - 9:00pm onwards. Entrance free.
See the picture right of your hosts, James and Jill.
Directions: starting from the airport parking lot, take the only exit and turn left, then left again and past the entrance to the airport. Continue straight through the roundabout and west down the center of the island to the next roundabout, where you will turn right and go down the hill into Sandy Ground. At the bottom of the hill, turn right into the village, follow the edge of the pond until you come to the sign for Johnnos on the left.

Story and pictures by Janine Edwards
Revised: 2001/11/28
---

Enter some keywords


Subscribe to the Anguilla News for faster information and bonuses: Click Here.