Paradise Apartments, Starting at $65 Per Day
www.news.ai Site Map Click to enlarge pictures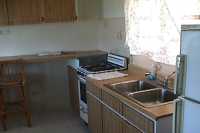 Who says Anguilla is only for the rich and famous. Anguilla has a lot of local places to stay that are clean, friendly, and economical. For example, Ambrose Gumbs and his wife Luz Maria operate their Paradise Apartments on Rey Hill, with a wide view from The Valley to Sea Feathers Bay in the East.
For $75 nightly you can have your own apartment in Anguilla with modern kitchen, twin or king bedroom, cable TV, telephone, ceiling fan, maid service, and private porch. And they take credit cards.
Cook your own meals. Small grocery across the street, or take a 10 minute walk to downtown Anguilla. Shoal Bay beach is only a 6 minute drive away. Telephone: 264-497-2168/2107. Best time to call is between 3pm and 10pm. Ask about car rental package, honeymoon special, and long-term apartments.
Web Site: Paradise Apartment has a web site with lots of pictures, honeymoon specials, and package deals combining apartment and car rental. And they mention that they have long-term apartments for rent as well. web.ai/paradiseapt
Revised: 2002/9/17

---

Enter some keywords


Subscribe to the Anguilla News for faster information and bonuses: Click Here.