Out and About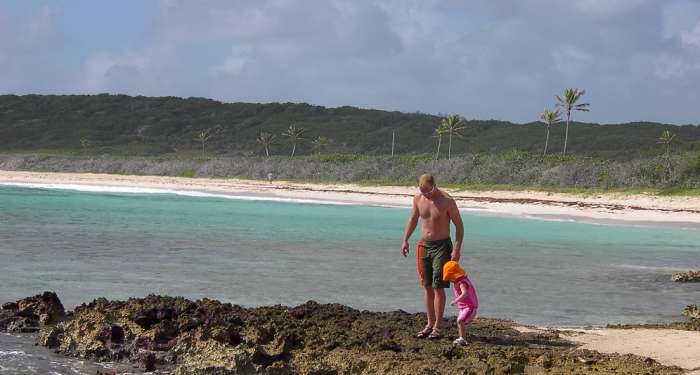 www.news.ai Site Map Click to enlarge pictures
What can a new visitor expect to find in Anguilla? Everyone has their own impression of Anguilla, but there are some things that everyone notices: the incredible beaches, the friendly people, and the wide range of dining choices. And then there are the negative features: no casinos, no cruise ships, no high-rise hotels or mass market tourism, no "duty free" shops where the same goods can be found cheaper at home at your Walmart.
These pictures were taken last December by a first-time visitor. I am using them to show what you might see if you explore the Anguilla that is beyond the resort boundaries.
The first shot above was taken at Savannah Bay, father and daughter exploring the tidal pools. Notice the long beach with no development and only one person taking a walk. Anguilla has lots of beaches that are like this. The next picture was taken at Sherricks Bay, another Robinson Crusoe beach, looking East toward the back of CoveCastles resort. All beaches in Anguilla are public, so feel free to explore. Of course the resort's lounge chairs and complimentary cold drinks are private.
The other picture is of a wild vine that flowers, taken in the Katouche Valley. Anguilla is an arid island without much soil and no rivers. Makes the rare volunteer blossom a pleasant surprise.
The cute house below is one of a few old Caribbean houses still standing in Anguilla, but the second picture is more typical. Notice the rebar sticking up from the top of the concrete house. This is left during construction to make it easy to add a second story in the future. These are very common, reflect a basic optimism, and are often actually used to build the second floor.
By the way, you can click any of these pictures to see a much larger version of it.
Below are three hand-made sailboats at Sandy Ground beach. These are built in each village to enter into the island's fiercely competitive boat races (boat racing is the Anguilla national sport). Most of the races are held after the tourist season is over, culminating in a week of racing during Carnival in August.
The other shot is Gossip and the Boys performing at Gwen's on Shoal Bay beach. Anguilla is a quiet place - on Sunday afternoons you may find live music at Johnnos in Sandy Ground and at several places on Shoal Bay, but don't expect much action during the week. Most of the nightlife is limited to Friday and Saturday, although the Pumphouse may have life music during the week.
School children in Anguilla wear uniforms, the color indicating which school they attend. Some parents pick their children up at noon and taken them home for lunch, which can cause a traffic jam in The Valley at 12 noon (don't worry, it is over in 5 minutes). But many students eat from the "lunch truck".
Goats are another frequent sight in Anguilla - and they wander almost anywhere. The last picture is from a choral performance at an Anglican Church. The holiday season is packed with such events - every church has one, and many civic organizations as well. And visitors are always welcome, so don't hold back.
Story by Bob Green and pictures by Fran Fowler.
Revised: 2004/12/2
---
Subscribe to the Anguilla News: Click Here.