Farewell to Nurse Lloyd
www.news.ai Site Map Click to enlarge pictures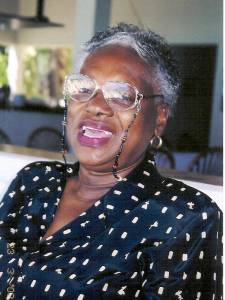 June 13, 1933 - October 20, 2003
Mrs. Vida Lloyd, also known as Nurse Lloyd, suddenly passed away on October 20, 2003. "Nurse", as she was affectionately called, touched many lives in her lifetime. She was a gentle soulůsoft-spoken with a powerful presence which attracted much respect and admiration among her family, friends, employees, colleagues, patients and guests.
Her distinguished and dedicated service in the nursing and public health arena in Anguilla and St. Kitts, arise from her unusual compassion and selflessness.
She began her nursing career as an Assistant Nurse at the Cottage Hospital in May of 1952.
Towards the end of the year she traveled to St. Kitts to pursue training in general nursing and midwifery. She spent the next 9 years at the Cunningham Hospital.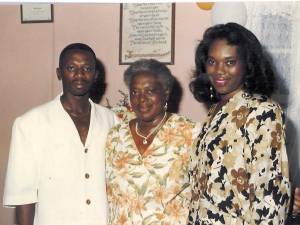 In September of 1961 she accepted a scholarship to purse a Management Course for Nurses in England. Upon return to St. Kitts in 1962, she was promoted to the position of Ward Sister. Also in 1962, she married Mr. David Lloyd and three months later took up a position in Anguilla as a Staff Nurse-Midwife.
Nurse Lloyd continuting training throughout her career and transferred to Community Nursing - District Nurse and worked her way up to Senior Nursing Officer.
The picture to the right shows Nurse Lloyd with her two children, David and Christine.
In her latter years, Nurse had another successful career in the hospitality industry with Lloyds Guest House. After her husband's death, she was the lifeblood of Lloyd's Guest House.
Lloyd's was the first hotel on the island and up to today it still maintains excellent standards.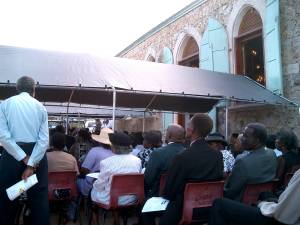 Services were held at Ebenezer Methodist Church in The Valley, with a crowd that spilled out of the church.


The family-run property first opened its doors in July of 1959 as a 10 room guest house, built by Owner and Manager David S. Lloyd, late husband of Nurse Lloyd. Mr. Lloyd, a successful General Contractor, realized the need for Anguilla to have tourist accommodations during his years of involvement with the Federation of West Indies in the late 1950s and early 1960s. With no electricity and no telephone system on the island, Lloyd built the guest house to be a full service establishment that would provide guests with three home-cooked meals a day, as there were no restaurants on island. All for the price of US $8.00 per day!

Lloyd's is a haven for many seeking the ambience of a traditional West Indian home away from home. Vida's warmth and passion to take care of people was felt by all. She especially liked to make sure all her guests were well fedů.a warm meal always awaits at the Lloyd's family-style dining table. Her children Christine and David grew up in and also help out in the family business. Her friendly employees Merlene, Hosapha and Fostina have been with Lloyd's for 15, 18 and 24 years respectively - testimony to the great care she took of all around her.

Pictures from Nurse Lloyds 70th birthday party at Cuisinart:

Bob and Mary Ann Green - Past Guests at Lloyd's and Personal Friends: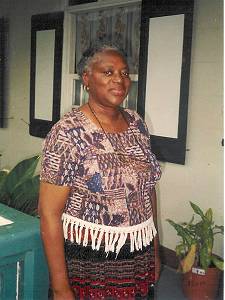 "The photo to the right is a typical view of Mrs. Lloyd, greeting guests on the porch."
"Our favorite place to stay was Lloyd's Guest House. Lloyd's was the first hotel on Anguilla and is still probably the friendliest. We've stayed there many times. Lloyd's is old-fashioned, comfortable, and very reasonable. More like a Bed and Breakfast than a hotel. The rooms are spotless, but small. Staying at Lloyd's is a cultural experience. The best part of staying at Lloyd's is Mrs. Lloyd. She looks after you like your grandmother. The food is good, basic West Indian cooking and you can have tea or coffee anytime you want. Family-style dining makes it easy to meet the other guests, including many local Caribbean people: teaching supervisors from Barbados, the Bee Man from Nevis, radar technicians from Antigua, etc."
"Mrs. Lloyd has the ability to make everyone who stayed at Lloyd's feel special.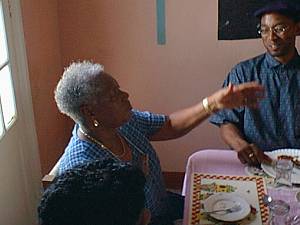 When we stayed there, Mrs. Lloyd always came to the porch to greet us and had a cold pop for us when we came back hot from our explorations of Anguilla. She served us afternoon tea and cheese, because we were Canadians. Later, we were surprised to see that she treated everyone the same way, as if they were her favorite nephew or niece. When a professional baker was staying at Lloyd's, she made a point of getting some special breads from Koal Keel bakery for the guest."
Rita Dispensa explains why she keeps coming back to Lloyd's Guest House, several times a year:
"... I first heard about Lloyd's because as a woman traveling alone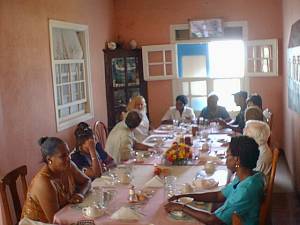 I needed a 'safe' place to stay (I had a bad experience or two at another place). One of the best things about Lloyd's is that it's like being in an Agatha Christie novel - you never know who you will meet in the lounge or at the dinner table. No matter what time of year that you come, there all kinds of interesting people that come through the doors - maybe only overnight, maybe longer. Vida Lloyd seems to have a way (or provide the atmosphere) where people from all different walks of life and backgrounds just seem to get along. And maybe one of the biggest items, at least for me, is that you get your privacy - you can leave your items in your room and not worry - her girls, Merlen and Hosepha are always polite, helpful and just plain fun."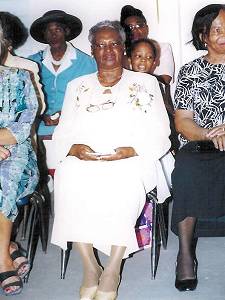 Just last year, Nurse Lloyd received two distinguishing awards. The Caribbean Tourism Organisation honoured her for her contribution to Anguilla's Tourism industry and The Pan-American Health Organisation (PAHO) recognized her outstanding contribution to public health. To the right is a picture from the PAHO Awards Ceremony in her honour.
Here is a collection of the News.ai stories done on Lloyd's ahd Nurse Lloyd over the years:
Lloyd's Web Page
Article on Lloyd's
40th Anniversary Article
40th Anniversary Tour
Article on Nurse Lloyd's Tourism Award
Nurse Lloyd's influence on her family, her church and community can only be described as legendary. Her spirit will live on in our hearts.
Story by Janine Edwards
Revised: 2003/11/2
---

Enter some keywords


Subscribe to the Anguilla News for faster information and bonuses: Click Here.