New PCs Donated to Computer Club
www.news.ai Site Map Click to enlarge pictures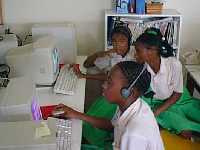 Thanks to a generous donation, the Anguilla Library Computer Club has eight new Pentium-class PCs. The donation came from Dave Thomas, a software entrepreneur who has purchased a villa in Anguilla, with shipping donated by Bob and Mary Ann Green, and set up done by all the club volunteers, including Tyler Close, a young computer engineer who won the Engineering Prize of Canada and decided to spend the money living in Anguilla and thinking about his next invention, an object-oriented database. On a single Sunday, club members set up the eight computers, added network cards, connected them together and to the Internet, and installed educational software.
Because the club now has dependable CD-rom and Sound capability, they have been able to offer new experiences to the children who use the lab: Mavis Beacon Teaches Typing, American Heritage Talking Dicitonary, Toon Talk programming game, Sim Tunes from Maxis for creating musical art, and Blues Clues puzzle adventures (the most popular).
To keep the noise level down, they installed headphones on each system instead of speakers. To protect the Win95 software from eventual destruction by eagerly enquiring hands, they installed Storm Windows, a security system that allows you to lock the Windows configuration and the desktop. One older system is a designated "crash and burn" machine, where students can experiment, install software, and get into the innards of Windows 95.
The lab is located in the back of the Arts and Craft building, next to the library. The club is currently open Mondays 3:30 to 5pm for those 12 and older, and Thursdays 3:30 to 5pm for younger children. Admission is $2EC per visit. The lab is also used by Information Technology students from the high school. Visitors welcome.
Directions: from the airport parking lot, take the only exit and turn left. Continue straight past Island Car Rental and the National Bank. Turn left at Alberts Market, go past the library, turn left past the Dept of Education, and drive to the back.
Revised: February 01, 1999

---
Net Yellow Pages