West End Bay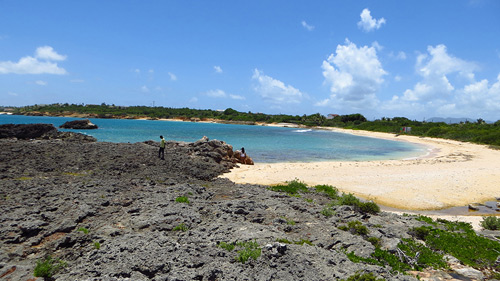 www.news.ai Site Map Click to enlarge pictures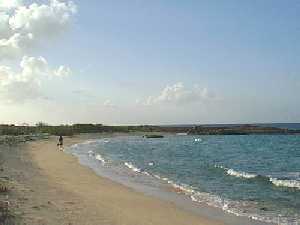 Anguilla has so many beaches that it is a challenge to identify them all. This small beach is located near the far western end of Anguilla. There are no hotels or services on the beach, in spite of it being a perfect small crescent.
West End Bay is what I'd like to call a true hidden gem of Anguilla. Why? It's rarely frequented by people!
This small crescent shape of a beach sits snuggly between two rocky areas. Comparing the picture at the top (taken in 2013) to the ones below, you'll see the only difference between them is the extra foliage that has grown through-out the years, making West End Bay even more hidden and private than it was before.
There isn't much shade but if you bring your own umbrellas, it would be a great place for a noon-time picnic.
The sand is a mixture tiny crushed shells and larger shells that are still intact which makes it a great place for shell collecting. A tiny hike on the rocks to the left of the bay is a fun activity, but caution should be practiced as these rocks are not the easiest to walk on. Wearing closed shoes is advised.
Note: The first person with the correct identifcation of our mystery beach was Sally Janin. Other winners include Mike and Pat Kocor and Garry and Cynthia Burgess. This beach was a real challenge, since most answers identified the wrong beach: Junks Hole, Meads Bay, Cove Bay, Island Harbour, Captains Bay and even Scrub Island.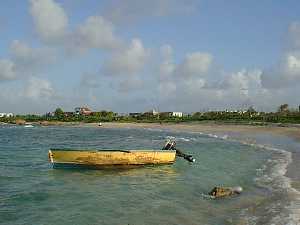 Directions: From the airport parking lot, take the only exit and turn left, then turn left again and drive west past the airport entrance, through the roundabout and follow the road to the west end. You will go straight through the Sandy Ground roundabout also. When you finally pass Cap Juluca and Leduc's restaurant, you will reach the end of the paved road. Turn right on a dirt road and take it straight to the shore.
Want to learn more about Anguilla's beaches and see hundreds of more pictures? Visit beaches.ai
Revised: October 9, 2013

---