Moonsplash 2000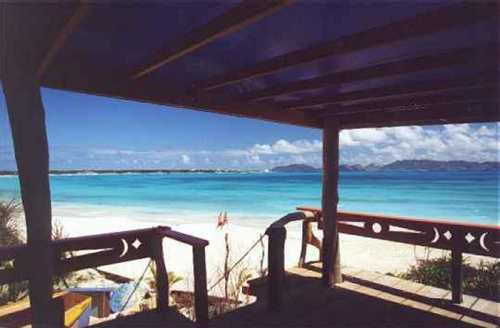 www.news.ai Site Map Click to enlarge pictures
With the full moon shining brightly over Rendezvous Bay, Bankie Banx hosted his 10th annual Moonsplash Music Festival March 17-19 at the newly reconstructed Dune Preserve.
Guest article by Randy Hannan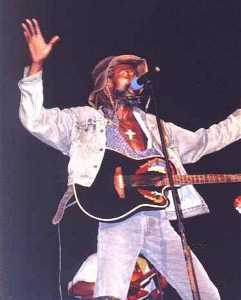 The three-day event was an unqualified success as prodigious amounts of music, food and drink were enjoyed by hundreds of attendees.
Just four months ago, the Dune Preserve, Bankie's eclectic beach bar overlooking Rendezvous Bay, was totally wrecked by Hurricane Lenny. Despite the setback, Bankie was determined to keep alive his ten-year tradition of holding Moonsplash under the March full moon. With a lot of effort and a little bit of luck, everything came together just in time to make Moonsplash magic.
On Friday night, the sounds of saws and hammers putting the final touches to the Dune gave way to the sounds of Bankie Banx and his Dune People jamming on the Moonsplash Main Stage. As the night rolled along, Frenchie from Jersey added her soulful harmonies to the musical mix. Anguilla's Kingniah I led the band through reggae favorites like Redemption Song. Sheriff Uncle Bob from New York put his slide guitar through the paces on country classics by Hank Williams, Jr. and others. Next up, the Anguillian group High Tension played to an appreciative crowd of several hundred party-goers. On Saturday, the Midnight Band from St. Croix was the top attraction, rocking the party until the early morning hours.

Pictured below are the New Dune Preserve, Wayne Brooks of Reggae Groovers, the stage view, and drummer Tahira Banx.
The Sunday Beach Party definitely lived up to its name. A gorgeous day on the Rendezvous Bay beach made for a delightful time by partygoers who came by land and by sea for the festivities. The Moonsplash Main Stage featured the Reggae Groovers, a talented Anguillian group that kept the energy level high with their solid performance. Later in the afternoon, Bankie and his Dune People took to the stage again, but this time with a very special guest performer, famed Hollywood actor and musician Kevin Bacon. With 11-year-old Tahira Banx (Bankie's daughter!) keeping the beat on the drums, Kevin, Bankie and the Dune People jammed for a three-song set that put an exclamation point at the end of a very enjoyable Moonsplash 2000 Music Festival.
Pictured below are Montana Pam, Kevin Bacon with Sheriff Uncle Bob, and the Dune View.
Planning is already underway for Moonsplash 2001. The event will be March 9-11, 2001. For more information, email [email protected] or visit Bankie's new web site at dunepreserve.com
Revised: 2001/2/4

---
Subscribe to the Anguilla News for faster information and bonuses: Click Here.