Mirrors Night Club
From the Anguilla Local News - Site Map.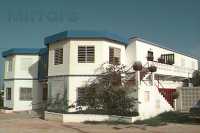 Looking for some music, pool, dancing? Try Mirrors Night Club. Here Chris Gumbs has worked hard to create a place for having fun. Mirrors is located above the Vista Food Market, near the Sandy Ground roundabout. They offer cocktail lounge, karaoke bar, recorded music, private dance flor, big screen TV, billiards and darts, and facilities for private parties.
Mirrors is open nightly from 7PM to 4AM, or whenever the last guest leaves. The action at Mirrors is busiest on Friday and Saturday night, and later rather than earlier. As the other places and events close down and as people get off work at restaurants and hotels, that is when late night places start to jump. Try midnight or 1AM if you enjoy company. When our 30-year old nieces were here, they used to switch to Mirrors after visiting the Pumphouse and Johnnos, usually wandering home about 5AM.
Telephone: 264-497-5522. Revised: September 28, 1997

---