Milly's Inn At Shoal Bay
www.news.ai Site Map Click to enlarge pictures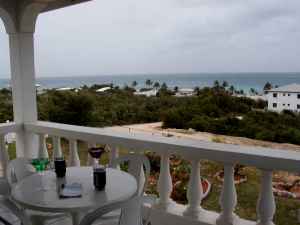 Just a couple of minutes walk from gorgeous Shoal Bay (East) is a quaint guest house comprising four self-catering apartments with lovely sea views and breezes.
Each unit is fully furnished with a living area, one bedroom, bath and kitchen. Cable TV, telephone and fans are available in each room and maid service is provided. The grounds are fenced and nicely landscaped with bright tropical flowers.
Milly has operated the guest house for the past 12 years and prides herself on offering warm, personalised service.

You can arrange for a sofa bed for an extra person for an additional charge. Contact: Tel. 1-264-497-2465; Tel. (evenings) 1264-497-4274, Fax 1-264-497-5591. Email: vince@offshore.ai
Directions: starting in the airport parking lot, take the only exit and turn left, continue straight past Island Car Rentals, National Bank and through the intersection at Barcley's Bank. Follow this road through Stoney Ground and Little Dix village for about 3 miles, then turn left on the paved road to Shoal Bay beach. When you go over the hill and down toward the beach, turn right at the bottom of the hill on a gravel road. Follow this and you will shortly see Milly's on the left.
Story and pictures by Janine Edwards
Revised: 2002/11/5
---

Enter some keywords


Subscribe to the Anguilla News for faster information and bonuses: Click Here.