MacDonna's Fruits & Veg
www.news.ai Site Map Click to enlarge pictures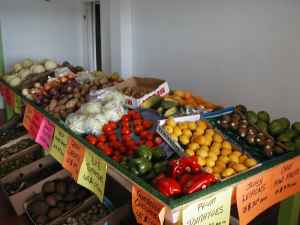 The South Hill Plaza recently got a fun, new addition to its interesting mix of enterprises.
MacDonna's specializes in the supply of fresh fruits and vegetables and also features a take-away Snack House. The menu includes
Fruit Salad (US$2),
Chicken Salad (US$4), Chicken Pasta (US$6),
Roast Whole Chicken (US$8) and with veg. side order (US$10)
and Roast Half Chicken (US$4) and with veg. side order (US$6).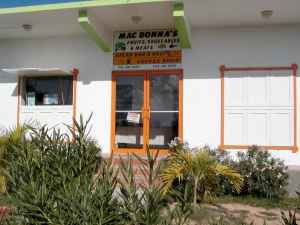 Garmon Greenaway better known as Guy manages the popular outlet. Opening hours: Monday - Saturday 8:30am - 6:30pm. Tel. 497-7604.
Directions: from the airport parking lot, take the only exit and turn left, then left again and drive past the airport entrance. Continue straight through the roundabout and west down the main island road. Go straight when you get to the next roundabout (i.e., don't go down to Sandy Ground). Pass the turn off for Blowing Point and in about a mile you go over 2 speed bumps at Anguilla Trading and will see South Hill Plaza on the left.

Story and pictures by Janine Edwards
Revised: 2002/10/14
---

Enter some keywords


Subscribe to the Anguilla News for faster information and bonuses: Click Here.