Lucy's Atop Keg's, George Hill
www.news.ai Site Map Click to enlarge pictures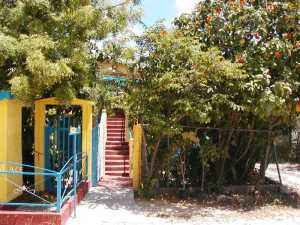 Lucia Connor, one of the pioneers of Anguilla's culinary arena, has recently opened a charming restaurant "Lucy's Atop Keg's" which serves up a delightful array of lunch and dinner choices. The rooftop location is ideal for fresh breezes and pleasant views of the sea and St Maarten. Lucy serves Caribbean and French cuisine.
The menu offers a wide range of soups, salads, sandwiches, appetizers, entrees and desserts and also features fresh tropical coladas made from fruits such as mango and banana. Soups include Fish, Chicken, Pumpkin or Lobster Soup (ranging between US$5 and $7); Salads include Plain, Garden, Shrimp, Lobster or Conch Fritter Salads ($4 - $12) and entrées include Whole Red Snapper Creole, Shrimp Kebab, Coconut Shrimp, Filet of Chicken Breast, Grilled Lobster or Crayfish, Rib Eye Steak, Creole or Curried Goat and more ($14 - $25).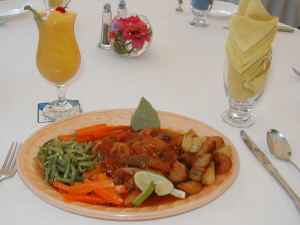 The Specialty of the House is Lucy's Filet of Snapper and Shrimp in a Creole Sauce ($22). All entrées are served with fresh vegetables.
Lucy has earned her stripes in the food and beverage industry having grown up around her mother who worked in the business in St. Maarten. A born Anguillian she spent her earlier years in St Maarten and enjoyed working there in restaurants after school.
Shortly after the beginning of the Anguilla revolution in 1967, Lucy moved back to Anguilla with her children and set up home on the island. In 1975 she converted a house into Lucy's Harbour View Restaurant which she sold 22 years later to the current ownership of Overlook Restaurant.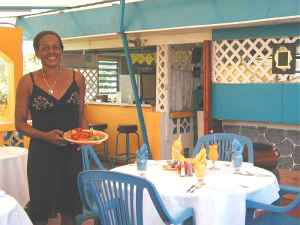 In the mid 1980's Lucy also opened a second restaurant with an informal, lively ambience called Palm Palms on the beach at Sandy Ground. This was the hot spot on the island - various local bands including the Mussingtons came alive at the Palm Palms.
Hosting and creating fine cuisine come like second nature to Lucy….this is her passion and her natural warmth and hospitality attest to this. Discover this new restaurant and meet Lucy who's always happy to share stories about her experiences on the island.
Directions: When driving west on the George Hill mainroad, immediately after the junction turning to Little Harbour, take a sharp right at the Lucy's sign, drive for several meters and park in the open area.
Tel. (264)-497-2253. Email her son Carl for more information at bettgard@anguillanet.com
Opening hours: Lunch 12 noon until. Dinner: 7:00pm - 11:00pm. Closed Sundays.
Story and pictures by Janine Edwards
Revised: 2002/5/19
---

Enter some keywords


Subscribe to the Anguilla News for faster information and bonuses: Click Here.