Hidden Anguilla: Long Bay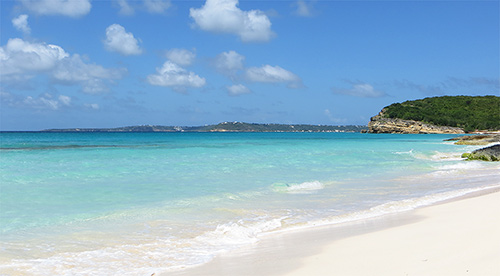 From the Anguilla Local News - Site Map.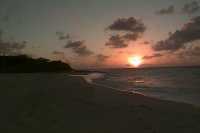 "We find this beach to be very scenic, especially when the bluffs at the east end light up in the late afternoon sun near day's end. We rarely encounter fellow beachcombers/swimmers - only an occasional fisherman." So writes Greg Futoma of Wallingford, Connecticut. He suggests Long Bay as a "Hidden Anguilla" topic.
Long Bay has perfect sunsets, beautiful cliffs in the late afternoon (picture), a small pond and a couple of scenic palm trees (picture). The sandy beach is effectively divided into two beaches by some protuding rocks that extend into the water.
The beach is home to Oliver's Seaside Grill restaurant and the super luxury villa compound, Long Bay Villas. Long Bay Villas is made up of Sea, Sky and Sand villa. They are extraordinary!
Directions (Current): There are several ways to the beach at Long Bay. Coming from The Valley, simply follow the signs to Oliver's Seaside Grill. If you're coming from the West, turn down onto the road that runs behind Meads Bay. Go past Mahogany Tree Park into Long Bay Village. Go over the speed bump and turn right at the sign to Oliver's Seaside Grill. Follow that road, staying right, until you reach the end of the road at Oliver's.
Directions (Old): Turn right after the Mahogany Tree Park at the small adandoned church and the roadside water spigot down a dirt road. Keep to the right and after a short ways the road will take a 90 degree turn to the right - find a spot to pull over and park here. At the point of the turn, a very rough road continues a few hundred feet. Walk this to the open field, and cross to the far west corner. A moderately steep path will take you down to the right edge of the east part of the beach. Wear sturdy shoes and enjoy.
Or, to reach the west part of the beach, continue through the Village and turn right just before the Carib Cafe restaurant, straight over the hill. On your left is the back of Malliouhana hotel. In front of you is a new house and the beach. Revised: September 20, 2013

---