Light House Restaurant
www.news.ai Site Map Click to enlarge pictures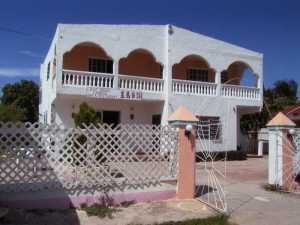 Anguilla has a well regarded Chinese restaurant in South Hill that does take-out. Below is their extensive menu, with prices in EC$ and US$. All dishes are served with rice and potato.
Telephone: 1-264-497-6437.
Directions: Light House is located on a paved side road between the main road to the West and Backroad. Starting in the airport parking lot, take the only exit and turn left, then left again, past the airport entrance and straight through the roundabout. Continue straight through the next roundabout (i.e., don't go down the hill to Sandy Ground) and continue past Connors Rental Cars. Turn right at the sign for Light House (or Irie Life, they are on the same side street). If you get to Anguilla Trading you went too far.
Light House Menu, Winter 1999
Soups, EC$ and US$
Chicken Soup 6.70 2.50

Beef Soup 6.70 2.50

Chinese Soup 8.04 3.00

Wanton Soup 6.70 2.50
Chicken, EC$ and US$
Chicken Chop Suey 18.09 6.75

Chicken Mushroom 16.08 6.00

Chicken Broccoli 14.74 5.50

Chicken Cutlet 12.06 4.50

Chicken Omelet 14.74 5.50

Curry Chicken 14.74 5.50

Chicken Chicharon 12.06 4.50

Roast Chicken 18.09 6.75

Spanish Chicken 14.74 5.50

Stewed Chicken 14.74 5.50

Sweet & Sour Chicken 14.74 5.50

Chicken Fried Rice 11.39 4.25

One Half Chicken 11.39 4.25

Chicken Chow Mein 18.09 6.75
Beef, EC$ and US$
Beef Chop Suey 18.09 6.75

Beef Cutlet 12.06 4.50

Beef Omelet 14.74 5.50

Beef Steak 13.40 5.00

Beef Mushroom 16.08 6.00

Beef Broccoli 14.74 5.50

Stewed Beef 13.40 5.00

Pepper Steak 13.40 5.00

Beef Fried Rice 11.39 4.25

Beef Chow Mein 18.09 6.75

Curry Beef 14.74 5.50
Specials, EC$ and US$
Nassi Goreng 11.39 4.25

Nassi Goreng Special 26.80 10.00

Bami Goreng 13.40 5.00

Bami Goreng Special 26.80 10.00

Mixed Vegetable Salad 9.38 3.50

Shrimp Salad 26.80 10.00

Chicken Salad 13.40 5.00

Conch Salad 20.10 7.50
Seafood, EC$ and US$
Shrimp Fried Rice 17.42 6.50

Seafood Chop Suey 25.46 9.50

Shrimp Broccoli 26.80 10.00

Shrimp Mushroom 26.80 10.00

Shrimp Cutlet 18.09 6.75

Shrimp Omelet 21.44 8.00

Shrimp Sate 13.40 5.00

Sweet & Sour Shrimp 26.80 10.00

Stewed Shrimp 25.46 9.50

Curry Shrimp 26.80 10.00

Seafood Fried Rice 18.76 7.00

Shrimp Chow Mein 26.80 10.00

Conch Cutlet 20.10 7.50

Fish Cutlet 16.08 6.00

Stewed Conch 20.10 7.50

Curry Conch 20.10 7.50

Curry Fish 20.10 7.50

Stewed Fish 20.10 7.50

Lobster Fried Rice 22.11 8.25

Lobster Chop Suey 52.93 19.75

Curry Lobster 52.93 19.75
Pork, EC$ and US$
Roast Pork Chop Suey 18.09 6.75

Curry Pork 14.74 5.50

Roast Pork Mushroom 16.08 6.00

Roast Pork 18.09 6.75

Pork Cutlet 12.06 4.50

Pork Chop 11.39 4.25

Spanish Pork Chop 14.07 5.25

Sweet & Sour Pork 14.74 5.50

Roast Pork Chow Mein 18.09 6.75

Roast Pork Fried Rice 11.39 4.25

Mix Fried Rice 16.08 6.00

Mix Chow Mein 20.10 7.50

Roast Pork Broccoli 14.74 5.50

Mix Chop Suey 20.10 7.50
More Special Dishes, EC$ and US$
Shrimp Cashew Nuts 32.16 12.00

Chicken Cashew Nuts 20.10 7.50

Shrimp Hot Pepper 26.80 10.00

Chicken Hot Pepper 17.42 6.50

Chicken Leg 8.04 3.00

Chicken Sate 6.70 2.50
Revised: 2000/1/2

---