Leduc's Restaurant
www.news.ai Site Map Click to enlarge pictures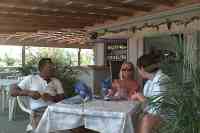 There is a fantastic gourmet French restaurant in Anguilla, Leduc's, located on the main West End road between Cap Juluca and Cove Castles.
2001: Leduc Moved! Chef Leduc has moved to Altamer Restaurant.
We went for lunch last season and had an incredible meal of Spring Roll, Baked Goat Cheese Salad, a sandwich of Grilled Eggplant, Zucchini, cheese and tomatoes, plus Creme Brulee and Frozen French Nouget for desert. Chef Maurice Leduc has designed an excellent menu and, based on our lunch and a subsequent dinner visit, they know how to execute it.

New for 1999: Leduc's has beautiful folk art murals on their dining terrace, painted by local artist Jo-Anne Hill Saunders.
For the past ten years Veronica and Maurice have been slowly migrating westward, starting at Island Harbour with the Fish Trap, then Pizazz in Sandy Ground and now their new venture west of Cap Juluca. Open for dinner every night (they are closed Wednesday before Jan 1), 6:30pm to 9pm. Telephone: 264-497-6393 for reservations.
Directions: From the airport parking lot, take the only exit and turn left, then left again and drive past the airport and through the roundabout. Continue through two traffic lights in George Hill and straight through the Sandy Ground roundabout. Stay on the main road all the way through South Hill and into the West End. Start looking for Leduc's about 1/2 mile after the turnoff for Cap Juluca. If you reach the end of the paved road, you went about 1/2 mile too far. From the West End hotels of course, this is much closer and easier.
Leduc's Season 2000 Menu
Starters
CRAYFISH BISQUE Smooth Soup Made From Anguillian Crayfish Laced With Cream (optional) 10.00

CLASSIC FRENCH ONION SOUP Topped With Croutons & Cheese Gratin 8.50

WHITE GAZAPACHO Chilled Soup Of Ground Almonds And Garlic With Grapes & Grated Apples 8.00

ESCARGOT A LA BOURGUIGNONNE Snails In Garlic Herb Butter And Diced Tomatoes, Served En Croute 6/9.50,... 12/16.50

OAKWOOD SMOKED SALMON Whipped Dill Cream Cheese And Cavior Served On A Sweet Potato Pancake 14.00

CONCH FRITTERS Seasoned Conch Deep-Fried In A Spicy Batter Served With Dill Tartar Sauce 9.00

TOMATO PIE Our Famous Open-Faced Tart Baked With Dijon Mustard, Cheese, Sliced Tomatoes, Garlic And Herb Infused Olive Oil 8.00

WARM GOAT CHEESE SALAD Goat Cheese Brushed With Sun-Dried Tomato Pesto Baked And Served On Locally Grown Mesculin Greens 9.50

CAESAR SALAD Crisp Romaine Lettuce Tossed With Garlic Parmesan Dressing 8.00

BLUE CHEESE SALAD Salad Greens Vinaigrette Topped With Grated Apple And Crumbled Blue Cheese 9.00

MIXED SALAD With Locally Grown Organic Mesculin Greens, Plum Tomatoes Bermuda Onion And Carrot Straw Garnish, Citrus Vinaigrette 8.00
MAIN COURSE
GRILLED FILLET OF SNAPPER with Capers & Sun-Dried Tomato Pesto 18.95

CHILI GLAZED SNAPPER FILLET Local Plantain & Sweet Potato Straw 22.00

CRISP ALMOND CRUSTED GROUPER FILLET Sauteed with Lemon sauce And served on Julienne of Fresh Vegetables 26.00

GRILLED MAHI MAHI FILLET With Chunky French Creole Sauce 19.50

COCONUT SHRIMP & VEGETABLE TEMPURA Chili Lime Sauce, Tropical Salsa 26.50

COQUILLES ST. JACQUES Scallops & Mushrooms In A Sherry Based Sauce Baked with Piped Potatoes And Cheese Gratin 24.50

FRESH LOCAL LOBSTER AND CRAYFISH AS AVAILABLE PER MARKET

FROG LEGS PROVENCAL Sauteed With Garlic Butter, Diced Tomatoes And Wine, Garnished With Escargot 22.50

FETTUCINNE ALFREDO Parmesan Cheese & Cream Sauce 17.50., With Chicken Breast 23.00... With Shrimp 27.00... With Vegetables 19.00

COQ AU VIN French Country-Style Chicken Braised With Red Wine, Mushrooms And Thyme 21.00

TWICE ROASTED CRISP DUCKLING Partially De-Boned, Served With Mango Green Peppercorn Sauce 26.00

VEAL SWEETBREADS FRANCAISE Lightly Breaded And Sauteed With Lemon Brown Butter Sauce, Parsley And Capers 24.50

VEAL SHANKS Osso-Bucco Style, Braised With Vegetables And Wine Served on White Bean Ragout 26.00

RACK OF LAMB Roasted With Rosemary, Garlic And Thyme, Crushed Juniper Berry Bourbon Demi Glaze 27.00

BLACK ANGUS STEAK AU POIVRE Classic Crushed Black Peppercorn Sauce 26.00

GRILLED BLACK ANGUS STEAK Topped With Diced Plum Tomatoes, Garlic, Parsley And Herb Infused Olive Oil 24.50
A 15% service charge will be added. Menu prices are in US Currency.
Revised: 2001/12/5

---

Enter some keywords


Subscribe to the Anguilla News for faster information and bonuses: Click Here.