Le Bistro: New At Malliouhana
www.news.ai Site Map Click to enlarge pictures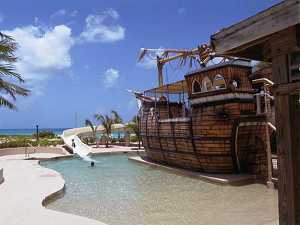 Anguilla has a new beachside eatery on Meads Bay at the Malliouhana Hotel. And it is part of an extensive beach recreation area as well, containing a waterslide, pirate ship, two pools, and conference facility upstairs. Even if you aren't staying at the Malliouhana hotel, you are welcome to come for lunch. And for $25 per day, you can use the recreational facilities and the beach lounge chairs. The facilities seemed to be passing the "child test" while we were there.
Lunch is served starting at 12 noon (no sooner). The menu is wide-ranging and designed to appeal to adults and children. Many items are offered in a large or small serving size at two prices. A 15% service charge is added to the bill.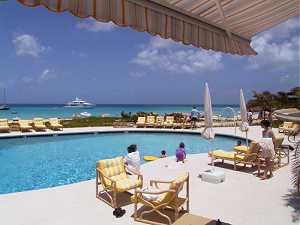 Besides burgers of beef, chicken or fish at $14 (large) or $8 (small), and pizzas at $15 or $10, they offer omolettes, chicken wings, chicken wingers, and quiche. For larger appetites, order a Steak, Fish, Skewered Shrimp or Half Lobster.
Also, Le Bistro offers four salads at $12: Sweet pepper, aubergine and goat's cheese, Italian with tomato, mozzarella, basil and olive oil, Artichoke and sauteed asparagas, or a Vegetable stick plate; sandwiches at $14 (large) or $9 (small): Bruschetta, Baquette of the day, Chicken, Ham, Tuna, or Grilled Cheese; Soups at $10 or $7: Gaspacho, Fish Soup, or Fresh Tomato (hot or cold); Assortment of smoked fish at $21; Taglioline pasta with lobster sauce at $17; or Spaghetti at $13 or $9. All dishes are served with your choice of Garnishe: Etuvee of green papaya and carrots, French Fries, Mashed Potato, Rice, Side Salad, or Vegetables of the day.
Revised: 2000/4/25

---