Le Bar
www.news.ai Site Map Click to enlarge pictures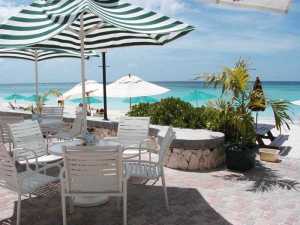 "Le Bar", a chic Café Francais, has recently opened on Shoal Bay East. If you want an elegant touch right on the beach you can try this great spot which features a sea food grill, a variety of interesting salads, baguette sandwiches and French Platters.
The menu includes Lobster Salad (US$16.50), Goat Cheese Salad ($12.50) Chicken Curry Salad ($11.50), Grilled Lobster ($19.50); Grilled Tuna Steak ($15.50) and a Kid's Special comprising a hot dog, chips and a drink ($6.50). Daily specials are also featured.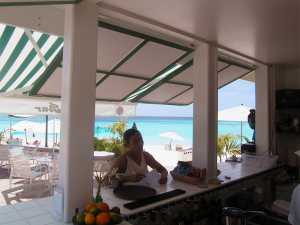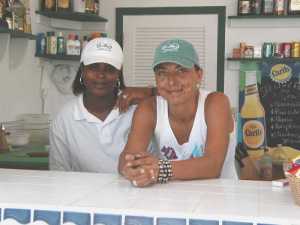 Veronique and Didier who operate the restaurant are seasoned in the gourmet food business. They previously ran Riviera in Sandy Ground and currently operate La Terrasse in the South Hill Plaza, which specializes in cigars, icecream, pizzas and their popular $19.90 lobster specials. If you're French speaking you'd be happy to know that Veronique also speaks French. Myra is the cocktail expert and she whips up various exotic delights including refreshing tropical coladas.
Opening hours: Daily from 10:30am to 6:00pm and even later on Sundays (about 7:30pm). They may close on Mondays in the slow season.
Located just right of Uncle Ernie's on the edge of the beach at Shoal Bay Hotel. Telephone number: 264-497-0099. Fax number: 264-497-8899.
Pictured below: Chicken Curry salad, Lobster salad, Le Bar Platter, and Snapper.
Story and pictures by Janine Edwards and Bob Green
Revised: 2002/4/20
---

Enter some keywords


Subscribe to the Anguilla News for faster information and bonuses: Click Here.