Lawn Party
www.news.ai Site Map Click to enlarge pictures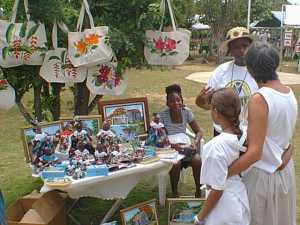 The Anguilla Craft Group Annual Benefit was held Saturday, March 18th, 11:30-3:30 on the grounds of Government House, which is the official residence of the British Governer. The ladies of the Craft Group spent the year creating beautifully decorated boxes, tiles, potholders, bags and other useful gift items. Then they have a fair to sell them and raise funds for children's art education in Anguilla.
As well as the crafts, the ladies opened their fair to other local artisans who had tables spread around the gardens, wherever there was a nice shade tree.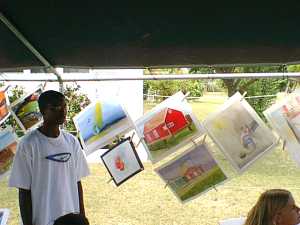 This year the fair featured a gas-powered Hot Dog Cart, borrowed from Cinnamon Reef Resort. Under a shady umbrella, Joan Hill served up big juicy Hebrew National kosher hot dogs, with your choice of condiments, including Sauerkraut and authentic NY Onion Relish.
Also new this year, the student artists of Anguilla had a displays, showing and selling their watercolours and oils. The quality was very high, as you can see in the pictures here.
The event was most enjoyable and civilized - they even had the professional art works from the Anguilla International Art Festival on display on the veranda.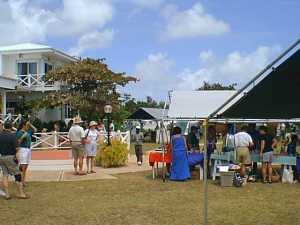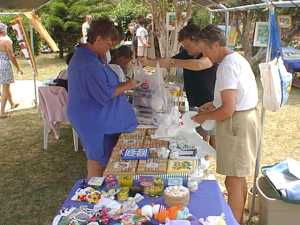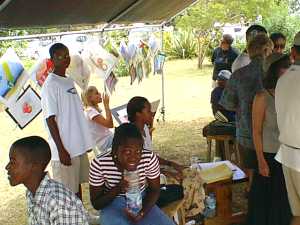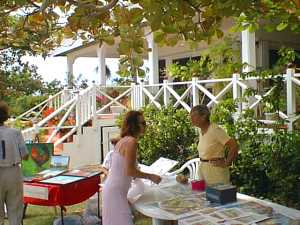 Revised: 2000/3/21

---