La Palma Guest Rooms
www.news.ai Site Map Click to enlarge pictures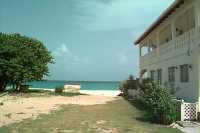 Did you know you can get a waterfront room on Sandy Ground beach for $65+ a night? You can, at La Palma guest rooms, where for 14 years proprietor Maire Richardson has offered 3 spotless units.
The guest rooms are upstairs where you get a nice breeze, but they have ceiling fans as well. Room #1 has the best breeze and a small kitchenette, Room #2 has twins or a kingbed with small kitchenette, and room #3 is waterfront with a double bed and fridge, but no cooking facilities. All rooms come with private bath.
Telephone: 1-264-497-3260 (guest house), 1-264-497-6620 (home). Web page: inns.ai/lapalma
Revised: 2002/9/12

---

Enter some keywords


Subscribe to the Anguilla News for faster information and bonuses: Click Here.