The LA Cafe
www.news.ai Site Map Click to enlarge pictures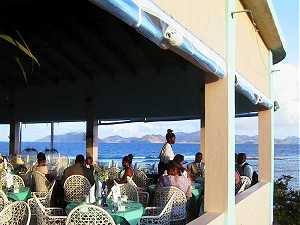 A new nightspot opened near Blowing Point last year that is right on the water with an incredible view of St Martin.
They started with a bang, with the Mussington Brothers playing on Saturday nights (this is one of Anguilla's most popular bands and always draws a crowd). The nightclub is large, air-conditioned, impressive and has a large dance floor and generous comfortable seating as well, plus state of the art sound and light system (see the picture below of the sky-painted ceiling over the dance floor).
As in most Anguilla nightspots, don't expect much of a crowd or live music until midnight (many in the crowd are employed at hotels and restaurants and don't get off work until 11pm).
To check current evenings of operation and who is playing, call 497-6151 or 497-6749.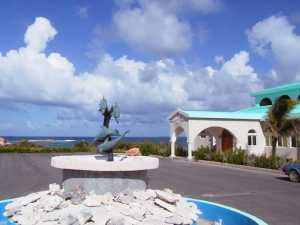 The LA Cafe nightclub has a $10 cover charge.
In addition to the elegant nightclub, they have now completed their dining room and started hosting receptions and dinner parties. The largest group so far was 300 people.
Last weekend they had a large wedding party for dinner and celebrations after the wedding ceremony.

To inquire about booking the LA Cafe for your event, call the manager, Miss B, at 1-264-497-6151 or 497-6749, or fax to 497-6860, or email the owners Elsie and James Richardson at lacafe@anguillanet.com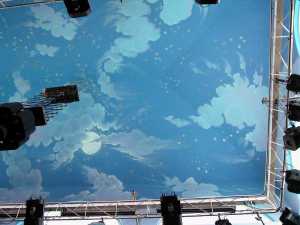 Directions: Starting from the airport parking lot, take the only exit and turn left, then left again past the airport entrance and straight through the roundabout. Continue straight through the Sandy Ground roundabout and turn left for Blowing Point at Connors Rental Cars. As you enter the village watch for the LA Cafe sign across the street from the new basketball court and turn left.
Go a long block and follow the road right, then about a mile toward the coast. Just before the paved road ends (and turns right back to the main road at Amys Bakery), there is a left turn on a gravel road (with a small LA Cafe sign at the moment). Go straight about a mile until the road and power poles bear right. Drive straight out to the coast and into the LA Cafe paved parking lot.
Revised: 2000/7/31

---