Katouche Bay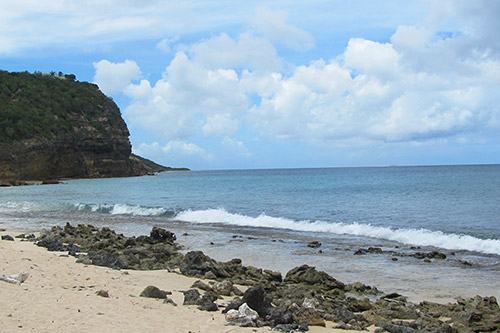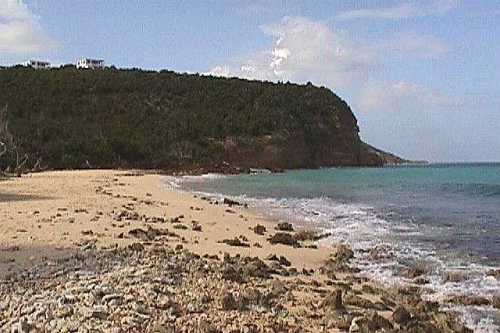 www.news.ai Site Map Click to enlarge pictures
Between Road Bay and Crocus Bay on Anguilla's Northern coast is a fun exploring beach: Katouche Bay. The first photo was taken in 2013. The second was taken in 1998. You can see not much has changed here! :-)
This bay is noted for a number of things. It is the start of the Katouche Valley rainforest, the Iguana Cave is nestled in its forest too, it is never crowded, it is a fun place to explore or have a picnic, and it is a good place to look for fossil sealife.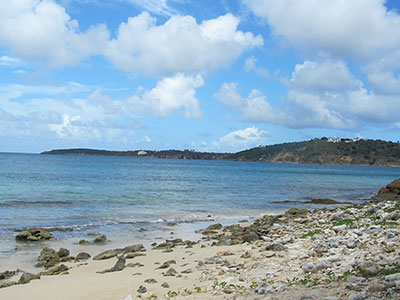 I haven't tried the snorkelling here, but my friend Vince does a regular exercise swim from here to Crocus Bay and back (Katouche is the closest beach to his house in Old Ta and a nice hike).
Before Hurricane Luis, a grove of Manchineel trees grew along the beach.
These have poisonous fruit and leaves, but luckily Luis killed them all.
Keep a watchful eye out for them growing back.
For fossils, search the east end of the beach and examine small rocks that have broken off the cliff (they are intermixed with a lot of broken coral from the sea, so you need to be patient), looking for ancient shell fish and other animals that were trapped in the soil and fossilized.

At the west end of the beach you can explore around a couple of small headlands for further small beaches, a beachfront cave and other adventures.
In the hills surrounding the beach there's a little hotel, Masara Resort.
Directions: From airport parking lot, exit airport and drive straight past Island Car Rental, Anglec and National Bank of Anguilla, turning left at the light by Albert Lake's supermarket. Continue straight, up Coronation Blvd to Crocus Hill. At the top of the hill, turn left (going past Lloyd's B&B) and follow the paved road along the ridge until it ends, then continue on the main dirt road to Masara Resort. Check at the office if it is okay to continue on their private road. Drive politely through the resort, down a steep one-lane road to a parking area by the beach.
Revised: September 18, 2013

---