John T Memorial Cycle Race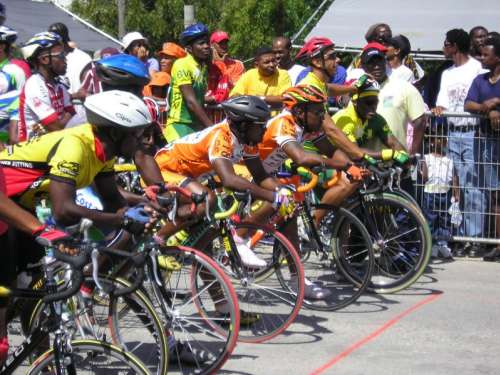 www.news.ai Site Map Click to enlarge pictures
Guyana captured the coveted first spot in the 2004 Annual John T Memorial Cycle Race for the third time in the last four years..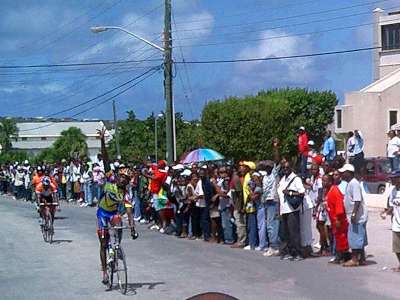 Winning cyclist Dwayne Gibbs (aka 'Road Hog') did Guyana proud as he did the 120 km (75 mile!) route in 3 hours 16 minutes and 13 seconds. Dwayne is pictured right, crossing the finish line.
Nipau Serge of Guadeloupe and St. Martin came in a close 3 seconds behind.
Third place was captured by Christopher Ghiorse of Tortola, BVI.
Unofficial results from www.bvicycling.com:
1. Dwayne Gibbs Guyana 3:16:13
2. Serge Nipau SXM (VCG)3:16:15
3. Christopher Ghiorse BVI 3:16:32
4. Andrew Reece Guyana
5. Micheal Phillips SXM
6. George Carty SXM (JVCO)
7. Ken Jackson Antigua
8. Gregory Hammer SXM (JVCO)
9. Marlon Williams Guyana
10. Charles Bryan Anguilla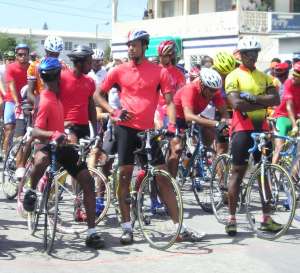 11. Irdor Gabin SXM (V8)
12. Loek Smith Curacao
13. Samuel Barker Guyana
14. Gordon Kennedy Guyana
15. Danny Donelan Antigua
16. Sammy Joseph St. Lucia
17. Mark Maidwell SXM (V8)
18. Ira Fabian Antigua
19. Eustace Dookie St. Lucia
***No times were recorded after 3rd place.
***No positions were recorded after 19th place."
The route started in The Valley going East to Sandy Hill roundabout, then to the West End, then on the way back, looping through Sandy Ground and then back to the East. Male cyclists were required to do three laps and female participants, two laps.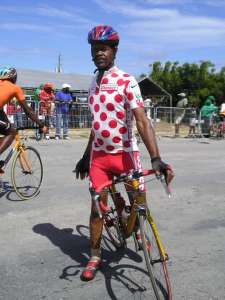 This race has become a major regional cycling event and this year it attracted about 75 cyclists from Anguilla and the neighbouring islands of Nevis, St. Kitts, Antigua, St. Lucia, St Martin/St Maarten, Curacao, Guyana and Tortola.
One of the most celebrated Anguillian cyclists is David Hodge ("Hodgie"), a 70 year old enthusiast living in the West End (picture right in red polka dots). David who has been the eldest cyclist participating every year since the inception of this race, has always successfully completed the route. In his leisure time David cycles at least every other day for a couple of hours. He has been cycling since his school days. He also enjoys swimming to keep fit.
The John T Memorial Cycle Race is held in honour of a gentleman from The Valley who was a pioneer in the cycling arena in Anguilla. This year's race drew large crowds of locals and visiting support teams from other countries.
For more information you can email axacycling@hotmail.com
Here are some more candid shots from the race, including Danny Laud of Anguilla (who we think was the second Anguilla finisher, and who worked for news.ai while in high school), racer Neil Armstrong of news.ai with supporter Bob Green, the VCG team from St Martin and more:
Photos by Bob Green; story and additional photos by Janine Edwards
Revised: 2004/4/4
---
Anguilla Tips for New Visitiors.

Subscribe to the Anguilla News: Click Here.