The Flight Deck
www.news.ai Site Map Click to enlarge pictures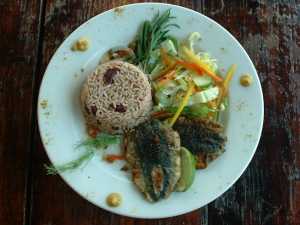 You may have glimpsed Flight Deck Restaurant as you fly into Wallblake Airport... a tropical yellow and blue wooden building sitting up on the mound just south-east of the airport. If you're lucky enough to arrive on a Friday night you will receive a musical welcome as the place comes alive with vibrant sounds of reggae with High Tension band 9:00pm until 1:00am.
A young energetic couple Andy and Shirlene Goddard operate the restaurant. Andy doubles as a singer, his main calling, and entertains his guests as he accompanies the various bands that perform. It's a convenient spot to hang out or have lunch upon arrival or before you leave. You can have quick lunches like burgers and clubs or sample a tasty Creole or West Indian dish. See the flying fish dinner pictured to the right. Specials include curried goat, stewed pork, goatwater and souse.
Flight Deck looks forward to some festive evenings at Carnival time and will feature live music all weekend long during the tourist season.
Opening hours: From 10am until. Telephone 264-497-2835.
Directions: starting from the airport parking lot, take the only exit and turn left, you will immediately come upon the Flight Deck on the hill on your right.
MENU
ARRIVALS
Homemade Soup of the day
US$5.00
Caesar Salad
US$6.00
Chicken Salad
6.00
Flight Deck Salad
US$8.00
DEPARTURES
Bacon, Lettuce and Tomato Sandwich (BLT)
US$6.00
Chicken Sandwich
US$5.00
Flight Deck Club Sandwich
US$6.00
Ham & Cheese Sandwich
US$5.00
Hamburger
US$7.00
Cheeseburger
US$8.00
Tuna Salad Sandwich
US$7.00
All sandwiches are served on baguette
All sandwiches and burgers are served with fries and salads
AIRBORNE
Chicken and Chips
US$5.00
Fish and Chips
US$7.00
Grilled T-bone Steak
US$15.00
Grilled Chicken Breast
US$10.00
Hagan Daz Icecreams (Assorted flavours)
US$4.00
Coconut Tart
US$3.00
Coffee or Tea
US$2.00
Pictures and article by Janine Edwards
Revised: 2001/10/7
---

Enter some keywords


Subscribe to the Anguilla News for faster information and bonuses: Click Here.