Cryptographer/Programmers in Anguilla
www.news.ai Site Map Click to enlarge pictures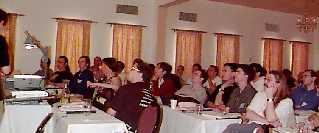 Anguilla was again the center of the financial cryptography world (aka "digital money") for the third year running, with the hosting of the FC99 Conference. 140 specialists attended from 10 countries, including Russia and China, 8 of whom paid with electronic money via e-gold.
There were many fascinating speakers and attendees this year, including:
Mark Miller of The E Project (a new open-source programming language with networking and crypto built into it);
Ron Rivest (one of the principals of RSA a leading and pioneering cryptography firm that holds many of the key patents);
Vince Cate of Anguilla (proud of his new T1 line and presenting his latest venture, Secure Accounts);
Ian Goldberg of UC Berkeley (who pointed out that having unknown programmers fix Y2K problems in old software may introduce worse bugs than the Y2K bugs!);
Lynwood Bell of Hansa.net and Hansa Bank ("locating and managing your intellectual property offshore"); and
Nicko van Someren of n-Cipher in Cambridge England. (showed that "secret keys" could be spotted by visual inspection because they are different from ordinary data).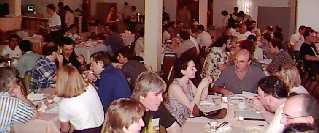 Other organizations who sent attendees and speakers were Microsoft, IBM, Divx, Certicom, Stanford University, University of Tokyo, ICSI, Mondex, Weizmann Institute (Israel), ETH (Switzerland), Xcert, Bell Labs, MIT, Gutenberg University (Germany), CorpFlow, and Certco.
With the cryptographers returning to Anguilla for FC-2000 and some showing an interest in living here, Anguilla may be on the way to becoming a Silicon Isle. Several proposals were being discussed for Technology Campuses, Parks and Centers in Anguilla.
FC99 was sponsored by: hansa.net, Euro RSCG, e-gold, n-cipher, Offshore Information Services, and Cable and Wireless
Revised: March 01, 1999

---
Net Yellow Pages