Fabric N' Tings
www.news.ai Site Map Click to enlarge pictures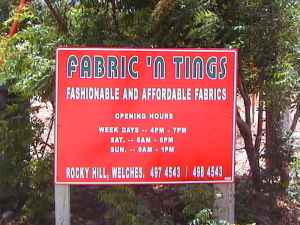 When you are driving around Anguilla, don't your wonder about some of the small businesses you see? Far from any "shopping center" or even from a village center, these businesses may be attached to someone's house or in a small building on the family land.
We recommend you drop in and visit any that sound interesting.
One of our favorite of these out-of-the-way stores is Fabric N' Tings.
Proprieter Heather Vanterpool imports an amazing range of fabrics from her native land Trinidad. She can get almost anything you want - just bring her a sample of the fabric you have in mind.
Heather's business is attached to her home of Rocky Hill in Welches. To find it you turn at her sign in Welches, on the main road to Island Harbour village. Follow the dirt road up to the hill, keeping to the left at all branches.
Telephone: 264.497.4543, 264.498.4543.
Revised: 2002/7/27

---

Enter some keywords


Subscribe to the Anguilla News for faster information and bonuses: Click Here.