Elsa's Restaurant
www.news.ai Site Map Click to enlarge pictures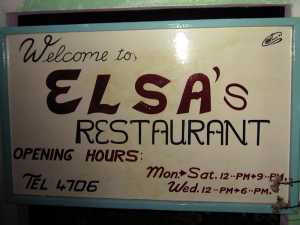 We have a real restaurant find for you in Island Harbour. Last night we tried a new restaurant, based on a recommendation from Kathie Butterfield (harborlights@anguillanet.com)
You should try Elsa's on the hill. Are you familiar with it? It is a neat and inexpensive local restaurant that is open 6 days/nights a week. She has fresh snapper, stewed lobster, as well as the ever popular chix and chips for as low as US$3.00 Her chips are homemade, and the best on the Island. Her johnnie cakes, superb. My guests come back very happy with the food and prices.
We tried the Grilled Snapper, the Old Wife Stew (aka Trigger Fish), and Sauted Shrimp. All three were delicious. Just to keep the cook busy the three of us ordered three different side dishes: rice, pasta and sauted potatoes. All were excellent. The plates were garnished with plantains and vegetables, and the price was a bargain.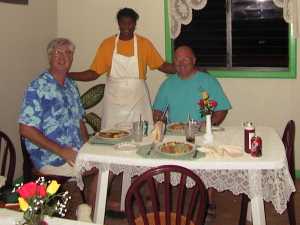 Elsa's Menu
All prices are in EC $ (remember, US$ 1 = EC 2.70).
Stewed Shell Fish, $16
Snapped, Grilled or Steamed, $20
King Fish, Grilled, $20
Shrimp - Sauted, $40
Stewed Lobster, $40
Conch Creole, $40
Salt Fish, $22
Old Wife Stew, $16
Pork Chops, $16
Oxtail, $10
Soup of the Day, $12
All served with choice of rice, vegetables, sauted potatoes or pasta.
They also make sandwiches and standard Anguillian TakeOut food. For example:
Ribs, $16
Chicken and Chips, $8
Hamburgers, $5
Telephone: 264.497.4706. Closed Sunday. Hours: 12pm - 9pm (except Wed, 12-6).
Directions: Elsa's is located at the east end of Island Harbour village. Starting from the airport parking lot, take the only exit and turn left, go straight past Island Car Rentals and the National Bank. Go straight through the intersection with Albert's Supermarket. Follow this paved road for about 5 miles, resisting the left turn for Shoal Bay. Eventually you will go over a hill, down in Welches, and then reach the waterfront in Island Harbour.
From Island Harbour, continue east out of the village. You go past the road for Hibernia and take the next left, just after the little house with the yellow roof, and across from Davis Lloyd's store. You can't miss it. It is the first on the left. Green with pink trim.
Revised: 2001/4/7

---
Subscribe to the Anguilla News for faster information and bonuses: Click Here.