Fantasy Snorkelling: Dropsey Bay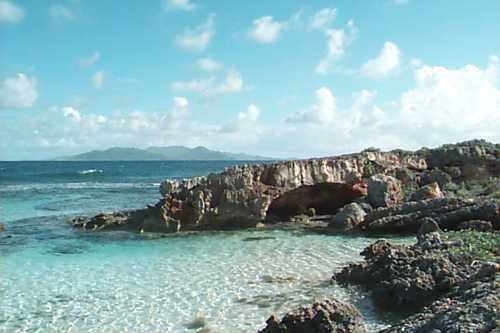 www.news.ai Site Map Click to enlarge pictures
Anguilla has many hidden delights, including this tiny cove in the middle of nowhere.

Jibralta (email: [email protected]) writes:
THANK YOU THANK YOU THANK YOU for Dropsey Bay. We loved it so much we don't want to tell anyone about it and spoil it. Even the assistantt manager at our hotel didn't know where the hell it was! Dropsey was the highlight of our beach excursions.

Dropsey had great snorkeling.

Thank you again for sharing this paradise with us.



For snorkelling in protected, quiet, shallow waters, try Dropsey Bay (or Jobsie Bay as it is sometimes pronounced).
Swim or wade over to the right side of the bay and enter a small cave with a "hot tub" and an opening where you can stand up and view the coast line. Re-enter the water and look for the underwater bridge.
This is snorkelling on an intimate scale. Go slow and wear reef shoes or old runners and you will have an unforgettable experience.
There are two houses nearby, Tequila Sunrise Villa and Rum Punch Villa (no shade or protection from the constant wind either, so this is not a major sunbathing destination) -- but you will probably be the only person on the beach. The bay is protected by a pair of reefs offshore, so the big waves are usually reduced to tiny ripples. The water is shallow and is clear on most days.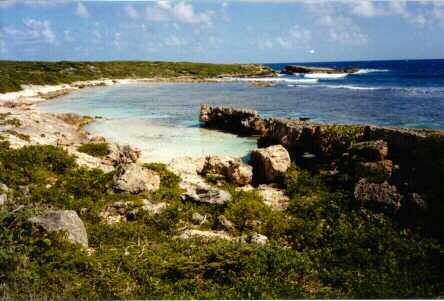 Cautions: although it is often calm here, strong currents sometimes run through the cave and the underwater bridge. Step carefully and slowly when entering the cave to avoid cutting yourself on the rocks, or even better, wear reef gloves so you can hold on tight. If you decide to swim under the bridge, make sure the sand hasn't filled it in! Then hug the bottom to avoid scraping yourself on the coral above.
Directions: Dropsey Bay is directly south across Long Pond. Heading towards Best Buy super market, drive down Long Path Road, passing the super market. Pass the gas station and turn right just past Trpoical Flower. Continue on that road, passing Long Pond on your right and Long Pond Bay on your left. Follow that road. The road will curve up to the left to go to Tequila Sunrise Villa, and there will be a smaller road before that on your right. Take that right to the beach.
Revised: September 20, 2013

---