Corner Bar Pizza
www.news.ai Site Map Click to enlarge pictures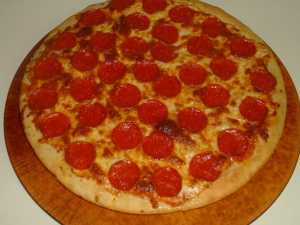 In answer to a question on the Carib-Online Forum, 'Where is everyone's favorite spot for inexpensive pizza? I cannot go a whole week with just 5 star meals',, one of the favorite choices was the Corner Bar Pizza.
The Flemings at the Corner Bar Pizza spot in North Hill have a unique family recipe which draws pizza lovers from all over the island. Venice and Lorna Fleming own and manage the restaurant along with the assistance of cousins Claudius and Peggy. They use homemade dough to make a thin crust and use fresh local produce like veggies and seafood for toppings as much as possible.
Their menu is quite extensive, catering to every palette. The Lovers Line Special includes: Caribbean Pizza, Meat lovers, Cheese Lover Plus, Super Supreme, Veggie Lovers, Pepperoni Lovers and Seafood Pizza.
If you can't decide on which toppings, have them all…on a Garbage Pizza!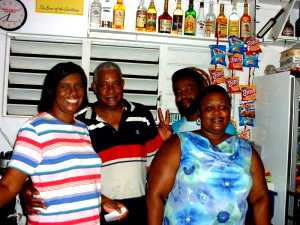 Pictured to the right are Lorna, Venice, Claudius and Peggy (left to right).
The Sea Food Line includes Crab Pizza, Fish Pizza, Seafood Combo, Lobster Pizza, Shrimp Pizza and Conch Pizza. There's a Kids Meal Special for US$3 which features a personal pan pizza with a soda.

There are side orders available of garlic bread, garlic cheese bread, hot wings and french fries.

For the Lovers Line and Seafood Line prices are as follows: Personal Pan - US$4, Small Pan at US$8, Medium Pan - US$14 and Large Pan - US$18.

Opening hours:
Monday - Saturday 11am - 11pm;
Sunday 4pm - 11pm.
Telephone: 264-497-3937.

Directions: Starting from the airport parking lot, take the only exit and turn left, then left again and past the airport entrance. Continue straight through the roundabout and down the main road. You will pass George Hill and the Anguilla Vision Center, then Richardson Furniture, then take a paved right turn into North Hill village. If you get to the next roundabout, you went one block too far. Follow the one road into the village until you reach Corner Bar.

Story and pictures by Janine Edwards

Revised: 2001/11/20

---

Enter some keywords


Subscribe to the Anguilla News for faster information and bonuses: Click Here.