Coco Plums Restaurant
www.news.ai Site Map Click to enlarge pictures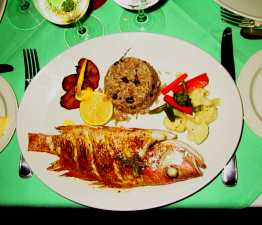 A new restaurant opened on Meads Bay in 2001. Coco Plums resides in a new building, purpose built as a waterfront restaurant: well-designed facility, right on the beach, but with protection from the wind, comfortable chairs to which they add a pillow for each guest.
Their mission is "to bring your table the freshest top quality ingredients, happily and healthfully prepared specifically for your enjoyment." Open Thursday through Tuesday. Lunch is served from 11:30 til 2:30. Tapas are served from 3:30 til 5:30 and Dinner is served from 6:30 til 9:30. Live music on Saturay night 9:30 til 12:30.
Telephone: 264.497.1208
Directions: two doors west of Blanchards on Meads Bay.
Coco Plums Dinner Menu, January 2003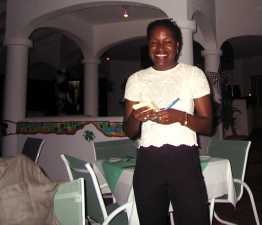 Starters
Vegetable Soup. $7.00

Lobster Bisque. Cream base and diced lobster. $10.00

Coco Plums Hearty Fish Soup. Served with grated swiss cheese & garlic croutons. $8.00

Caesar Salad. Freshly grated Parmesan Cheese, anchovies, egg and garlic croutons. $11.00

Coco Plums Crayfish Salad. Crayfish Tails sautéed with olive oil, ginger and soy sauce. Served with an assortment of baby greens tossed with lemon vinaigrette. $18.00

Marinated Conch Salad. Lemon juice, olive oil, vinegar, sweet peppers, celery and red onions. $12.00

Mixed Garden Salad. Assortment of local greens served with house dressing. $9.00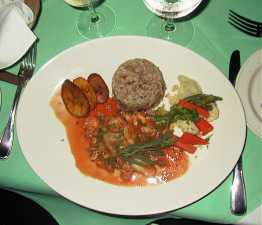 Pasta
Seafood Spinach Fettucini Pasta. Tossed with snapper, hindfish, crayfish, sweet peppers, mushrooms, lemon juice & spicy tomato sauce. $22.00

Lobster Penne Pasta. Tossed with sweet peppers, mushrooms, chives and lobster sauce. $25.00

Spaghetti Bolognese. Freshly grated Parmesan cheese, fresh herbs with tomato meat sauce. $16.00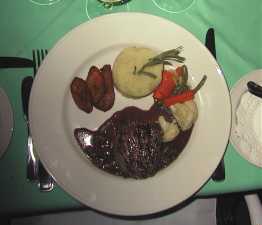 The Main Event
Grilled Grouper. Served with vegetable cous-cous, steamed mixed vegetables with a choice of creole sauce or garlic butter sauce. $26.00

Snapper Fillet. No bones about it! Tender Snapper Fillets relaxing on a bed of Mashed Potatoes, blessed with a lemon caper sauce. $25.00

Whole Snapper. If you order this tonight you must come back and order it tomorrow night. Choose Blackened or Steamed (or both). $26.00

Pan Seared Mahi Mahi. Fillet of Mahi Mahi marinated in olive oil and lemon juice. Served with capellini and ginger soya sauce. $24.00

Pan Seared Anguillian Crayfish Tails. Served with Mashed potatoes, vegetables and lobster sauce. $39.00

Grilled Rack of Lamb. Lamb racks marinated in fresh herbs, olive oil and grilled to perfection. Served with grilled vegetables and oven roasted potatoes. $34.00

Black Angus Tenderloin. Feel like Meat and Potatoes? Eight Ounce Steak grilled to perfection and perched atop garlic mashed potato mountain. Served with Red Wine Shaolt Sauce and Vegetable du Jour. $32.00

Chicken Creole. Local favorite prepared the Coco Plums way. Boneless cutlet, grilled and served with Creole Sauce, Rice and Peas and Fried Plantain Slices. $22.00

All prices in USD plus 15% Service Charge
Closed on Wednesdays
Visa, M/C and Amex gladly accepted
Coco Plums Children's Menu
Hot dog $6.00

Chicken Fingers $8.00

Grilled Cheese $5.00

Peanut Butter & Jelly $5.00

Hamburger or Cheeseburger $6.00

Spaghetti with tomato sauce or butter $10.00

Grilled Fish with rice & peas served with mixed vegetables $12.00

Revised: 2003/1/13

---

Enter some keywords


Subscribe to the Anguilla News for faster information and bonuses: Click Here.