Chocolat and Captain Rollins
www.news.ai Site Map Click to enlarge pictures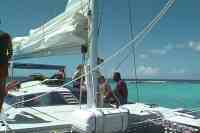 The Internet forums have contained some glowing reviews of the catamaran Chocolat recently. Click on the picture to the right for a full-size image. First, a report from Kenny Schik:
"We spent a very pleasant day with Capt. Rollins on his catamaran, "Chocolat".\egc cost is $80 dollars per person, but includes lunch and all the beverages you would like to consume! We went snorkeling on Prickly Pear Island, had lunch on Sandy Island, and snorkeled at Little Bay. The sailing was fantastic, and Rollins is a great host. We were on the water for 7 hours. I recommend this for anyone. It was the highlight of our trip to Anguilla!"

[email protected]
Then from Kathy Smith:"
"The best part of our trip was going out on Chocolat a 35' catamaran with Captain Rollins Ruan. He was delightful and very knowledgeable ... Chocolat takes a maximum of 12 people out at a time... He also does sunset cruises for 2-8 people at $50 per including hors d'oeuvres and drinks. Private charter are available for $360 for 1-4 people and $50 per person additional. Drinks included. If you want him to cater lunch, let him know. They will do that on request..."

[email protected]
Your intrepid correspondent volunteered to go out with Captain Rollins Ruan for research purposes. Spending the day from 9:45 AM to 4:45PM on Chocolat was a great experience. Here are some pictures I took:

Hint: Before starting out I lathered myself with waterproof 45 SPF Sun Screen, but I still got a burn where I didn't have enough on my face. It was a tough assignment, but I can now recommend the Chocolat excursion from personal experience.

For more visitor pictures of sailing on Chocolat, click here and also try here.

To book a trip, phone 264-497-3394 or email ruan@anguillanet.com

Revised: 2001/6/13

---
Subscribe to the Anguilla News for faster information and bonuses: Click Here.