Hidden Anguilla: Captains Bay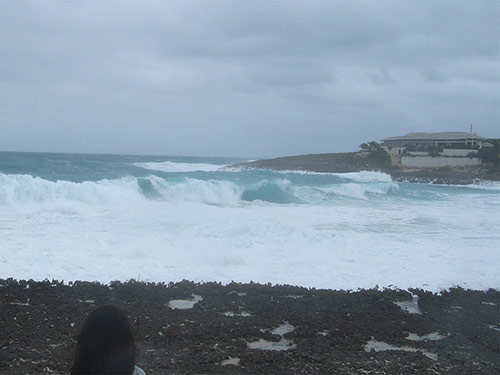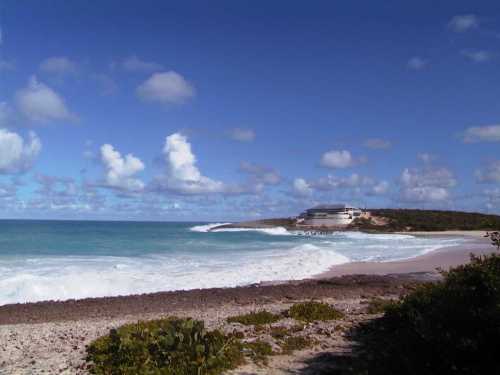 www.news.ai Site Map Click to enlarge pictures
Anguilla has many famous beaches such as Shoal Bay, Meads Bay and Little Bay. But there are also many wonderful unknown beaches where you could be the only person in view.
One such beach is Captains Bay on the north coast just before the eastern tip of the island. This quarter mile stretch of perfect white sand is bounded on the left by a rocky shoreline where Atlantic waves break spectacularly. There is one super luxury villa, Villa Exclusivity, at this remote spot.
I do not recommend swimming at Captains Bay: the surf can be dangerous (and never swim alone at a remote beach.)
The first picture above was taken in 2013. The rest of the pictures on this page were taken on December 30, 2002, as we were exploring a new road that goes to Captains Bay. Some waves that day were breaking 20 feet high against the nearby cliffs and up to 16 feet on the beach both days (in 2002 and 2013). You can tell the beach hasn't changed a great deal.
Directions: Starting from the airport parking lot, take the only exit and turn left, then go straight past Island Rental Cars and the National Bank. Continue straight through the traffic light and on through Stoney Ground and Little Dix toward Island Harbour. Stay on the main road until it splits in two after the cement plant. Turn left and continue over the hill and into Island Harbour village.
As you leave the village, you have two choices.
One choice is to turn left on Harbour Ridge Drive (toward Hibernia Restaurant). This road is paved for a while, then gravel. Go straight, then bear slightly right and follow the new telephone poles (which lead all the way to Captains Bay). When you get over the hill you will see the beach on the left. As the road switches from a rocky surface to sandy, take the first left, which goes right down to the beach.
Another choice is to continue up to the top of the hill and turn left on a gravel road after the Island Supermarket (toward Junks Hole). If you turn left in all cases, you will reach Captains Bay in 2.4 km (1.5 miles). Avoid tempting right turns at .5 km, .8 km, 1.9 km and 2.2 km.
And here is an older picture of Captains Bay, taken when we first moved to Anguilla in the late 90s.
Story and pictures by Bob Green
Revised: 2013/9/18
---

Enter some keywords


Subscribe to the Anguilla News for faster information and bonuses: Click Here.