Callaloo Club Peninsula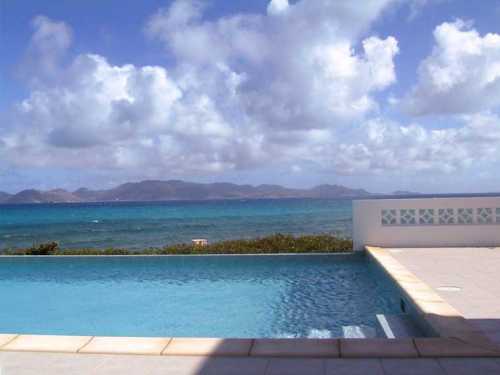 www.news.ai Site Map Click to enlarge pictures
Anguilla has a new villa resort for you to consider. Located at the tip of Cul de Sac, half a mile west from the pier of Blowing Point and the ferry terminal, Callaloo Club Peninsula is an elegant villa resort with hotel services, including chef and all facilities and with fully equipped office and staff.
Callaloo lies on a waterfront estate of about 10 acres overlooking Saint Martin and Saba, and beachfront on the northwest coast with a wonderful view of Rendezvous Bay. Also on the property is the charming and private beach of of Tiny Bay. Callaloo is an excellent location: far away from crowds and noise.
The project is still in progress and, as of March 2001, has:
Caribera Villa, a 3-story, large, modern, fully air-conditioned villa. Built in the Caribbean style, overlooking St. Martin, with a large private swimming pool overflowing into a second waterfront basin. Caribera villa has 8-1/2 bedrooms, all with sea-view, 8 bathrooms and is fully furnished in a colonial style. Equipped with 3 TVs and VCRs, a gourmet kitchen with freezer, microwave, double stoves, refrigerators, dishwashing machines and separate laundry-room with double washing and drying machines.
Rosamaris Villa, 2 and 3 storied, very large beachfront villa overlooking the beach of Tiny Bay, Rendezvous Bay and the island of Blowing Rock.
Ananke Villa, 2-1/2 bedrooms, brand new private small dwelling,
Sarasvati Villa, 6 bedrooms, literally on the sea, building under construction,
Seapool Gazebo, 1 bedroom, just on the salt water large pool, facing the south with an incredible view of Saint Martin.
Pappagallo House, presently hosting the office of the manager: Miss Jermel Richardson.
For information and reservation call 264.497.8933 or email to caribera@anguillanet.com
Web site: www.callalooclub.com
Photos and article by Professor Gaetano Di Palo
Revised: 2001/4/6
---
Subscribe to the Anguilla News for faster information and bonuses: Click Here.