Brooklands Island View Apartments
www.news.ai Site Map Click to enlarge pictures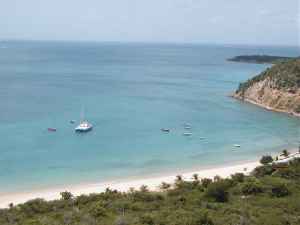 If you're seeking a very spacious three-bedroom self-catering apartment at great value, consider Brooklands Island View located on the hill overlooking gorgeous Crocus Bay and the coastline. The units optimize privacy as they each occupy an entire floor. Each comprises three bedrooms, 2 baths, living area, dining room, kitchen and wrap-around patio.
John Brooks the owner of the condo is a son of the soil who relocated to the United Kingdom over thirty years ago. He invested in the property and his personable daughter Christine moved down to Anguilla this past April to operate the business.
The breezy apartments are fully furnished with an equipped kitchen, cable TV and ceiling fans. Brooklands Island View is located just a few minutes walk from Crocus Bay. Stays include a complimentary welcome amenity, airport/ ferry port transfers, concierge service and maid service a couple of times a week. Christine would be happy to pre-arrange for a rental vehicle or first food pack stocks as needed.
Weekly Rates:
Winter (15 Nov. - 15 April) US$850 (Top fl.), US$750 (Middle), US$650 (Ground).
Summer (16 Apr - 14 Nov.) US$650 (Top), US$550 (Middle), US$450 (Ground).
Add 10% government tax to all rates
For details: www.brooklandsislandview.com
Tel. 264-497-5078.
Email: chrissybrooks978@hotmail.com
Story and pictures by Janine Edwards
Revised: 2002/10/5
---

Enter some keywords


Subscribe to the Anguilla News for faster information and bonuses: Click Here.