Body and Soul
www.news.ai Site Map Click to enlarge pictures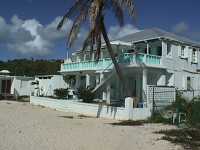 Located next to the dive center in Sandy Ground, the Body and Soul health and fitness center is a welcome addition to Anguilla. Enter the renovated Caribbean house on the ground floor, sea-side and enter the bright and well-ventilated fitness room, with a 1000 sq ft wooden floor with mirrored walls.
Blending their talents together, the directors of the center are Susanne Schröder-Geyer and Michelle Ward. Susi is always in front to show you how, keeping you going through the cardiovascular, strengthening, toning, stretching, ahd whew... finally, cooling-down phases of her classes. Classes offered: Reebok step, Abs, Legs, and Buns (really works), Callisthenics, Back Strenghtening and Yoga. The gym is equipped with ballet bar, benches, steps, hoops, dumbells, mats, weight wraps, elastics and some of the hippest music in Sandy Ground. There is no one too out of shape or uncoordinated for Susi -- with her patience you will never feel out of place.
Kids love the fun and zippy classes set up for them with Michelle. She takes them through a rousing junior rendication of Reebok Step. And they offer Ballet, Jazz dance, and even Acrobatics.
Swimming lessons are offered for adults and children, taught in the sea right in front of the house by a professional Swim Instructor. The calm waters of the bay are better than a chlorine pool... an ideal setting for the beginning swimmer. And you can shower after swimming lessons.
More is in the works: healthy juice bar, massage, ... something for every age and shape. It makes getting healhty fun. [Click here for updated information.]
Telephone: 1-264-497-8364. Email: [email protected]
Guest article by Kathy Sotiaux
Revised: November 27, 1999
---