Boat Racing 1999
www.news.ai Site Map Click to enlarge pictures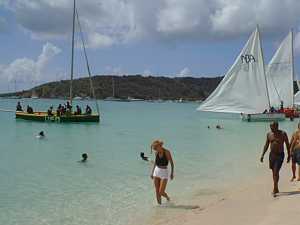 The national sport of Anguilla is boat racing and Carnival week is the climax of the racing season. Races are held all week, with the winners facing off in a final Champion of Champions Race. This year's winner was UFO from Island Harbour village.
These pictures were taken at the start of the August Monday boat race on Sandy Ground village. You can see the winner UFO in the first two pictures, then a typical beach crowd scene, then Harris "Mr. Cool" Richardson, explaining the rules to various boat captains, then the Romney Family Reunion pavillion, another crowd scene, and the start of the race.
You may enlarge any of the pictures here by clicking on them.
---