The Perfect Location for a Villa
www.news.ai Site Map Click to enlarge pictures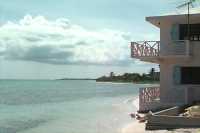 The Boathouse on Corito Bay has got to be the closest house to the water in all of Anguilla. Waves actually lap the porch at high tide. What started as a boat house long ago has been tastefully converted into a very nice one bedroom getaway, then added onto by the new owners. This is their personal home and is outfitted like one with custom art work, clouds painted on the ceiling, and a washer and dryer.
The Boathouse is fully equipped for one couple only (sorry, no children). Would be excellent for a honeymoon, real or pretend.
For more information, visit their boathouse.ai web site.
For comprehensive villa information, visit the villa guide of the Anguilla News.
Revised: April 30, 19101

---
Subscribe to the Anguilla News for faster information and bonuses: Click Here.