Billys' Pastry and Cafe
From the Anguilla Local News - Site Map.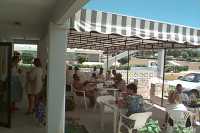 Maxine Herbert-Webster has opened a fun cafe in The Valley across the street from the post office. It has a covered verandah with outdoor seating that allows you to watch the business of Anguilla pass by as you sip a coffee. and serves breakfast, lunch and snacks, and sells baked goods. And they have knocked down the walls that made it so difficult to see when driving out of the Caribbean Commercial Center parking lot. We stopped in for a nice lunch and especially recommend the eggplant fries. 264-497-2844.

Billy's Menu - Prices in EC$ and US$
Lunch Menu
All prices in E.C.$ (US$ shown for a few items)
Burgers
Hamburgers
6.50 US2.50
Cheese Burgers
8.00 US3.00
Vege Burgers
8.50 US3.25
Ham & Cheese Burgers
8.00 US3.00
Big Billy (Double Burger served with the works)
13.00 US5.00
Burgers are served with potato or eggplant fries or home made potatoes
Salads
Chicken
15.00
Chef
18.00
Tuna
15.00
Lobster
26.00
Caesar
13.00
| | | | |
| --- | --- | --- | --- |
| From the Grill | | | |
| Tender Chicken Breast | 16.50 | Local Filet of Fish | 18.50 |
Grill specials are served with Vegetables, Peas and Rice or Potatoes of your choice. Rafe's French Bread is available at additional cost of US $1
Breakfast Menu
Two eggs, scrambled, fried, boiled or sunny side up, cooked to your liking! Served with toast and Home-Made Potatoes.
10.50 US 4.00
Bacon is served with one egg.
Sausages. Served with toast and home made potatoes.
12.00 US4.50
French Toast served with fruit.
8.50 US3.25
Pancakes served with fruit.
8.50 US3.25
Drinks
Coffee
2.00
Lipton
1.50
Herbal Tea
2.00
Bush Tea
1.50
Orange Juice
3.50
Local Mango Juice
5.00
Sandwiches.
Served from 7am to 6pm on French Bread.
Grill cheese
7.50
Tuna
7.50
Fish (Fillet)
10.50
Ham & Cheese
7.50
Beef
8.00
Turkey
7.50
Billys' Club
8.00
All with fries or home-made potatoes.
Cakes by the Slice
Cheese cake
5.00
Lemon Cake
5.00
Strawberry Cheese Cake
6.00
Apple Pie
5.00
Chocolate Pie
4.25
Pound Cake
4.00
Black Cake
6.00
Lemon Tart
5.00
Orange Carrot Cake
4.50
Muffins
0.80
Dough Nuts
1.00
Revised: September 28, 1997
---