Sunday Brunch with Bankie Banx
www.news.ai Site Map Click to enlarge pictures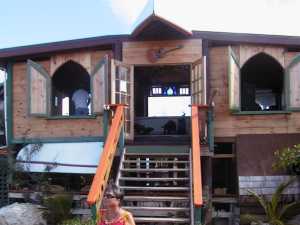 The Dune Preserve on Rendezvous Bay is home to the annual Moonsplash celebration. But you don't have to wait until March to visit the Dune Preserve. They have a special night of entertainnment every full moon, plus they have music most weekends. And they are open for food and drinks anytime.
But the "news" is a Sunday Brunch at the Dune. Normally, if you want to hear Bankie, you need to stay up late, but now he has a special buffet brunch on Sundays, followed by entertainment. When we went, the Sunday brunch included johnny cakes and special guacamole, mackerel and spinash, eggs, bush tea, tofu spinach dish, fruit salad, green salad, more... total price $15 per person.
The Dune is a unique place, built of driftwood, wrecked boats, discarded bottles, even recycled sliding glass doors. Grab a drink or take a swim on the beach. Outdoor concerts are held in the "front yard" where a bandstand was created out of a boat hull (see picture below). For a contrast, walk next door and explore the grounds of the CuisinArt resort.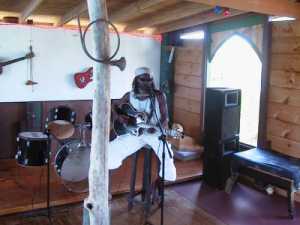 Regular Dune Menu:
Black bean soup $8.00
Garden salad $8
Chicken salad $15
Seafood salad $17
Vegetarian plate $17
Curry Chicken $17
Ginger Chicken $17
Baby back ribs $17
Grilled fish $20

Served with salad, rice and peas.
Directions: take the CuisinArt resort turn off, but when you get to the end of paved road continue on the gravel road to the beach.
Revised: 2002/1/5

---

Enter some keywords


Subscribe to the Anguilla News for faster information and bonuses: Click Here.