Festival Offers Four Art Workshops
www.news.ai Site Map Click to enlarge pictures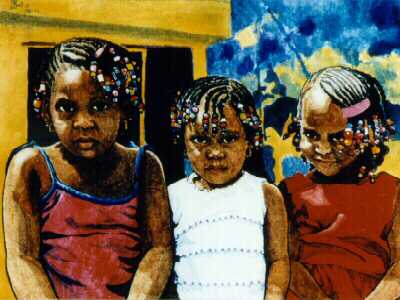 Coming this summer, Anguilla's Art Festival offers artists four professional workshops where they can learn new techniques and sharpen your skills. The second biennial Anguilla International Arts Festival and Competition will take place Sunday, July 25 - Sunday, August 1, 1999.
The programme is very extensive and includes a choice of four in-depth workshops by qualified experts in oil & acrylic, watercolour, pastel and stained glass. In addition, evening critiques of participants' work, followed by demonstrations from the workshop leaders will make the event a valuable and interesting learning experience.
Workshop leaders' biographies are on the web site:
Charlotte Wharton for oil and acrylic
Cheri Walton for watercolour
Claudia Post for pastels
Paul Petrushonis for stained glass.
If you are the type of artist who just wants to commune with Shoal Bay (or Johnnos), the workshops are optional and the festival has an option for you. Everything is explained on their web site, artfestival.ai
Deadline: March 31, 1999
Revised: February 16, 1999

---
Net Yellow Pages