Stamps Feature Art Festival
www.news.ai Site Map Click to enlarge pictures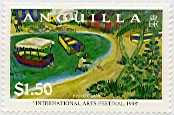 The Anguilla Post Office issued a new set of stamps in August which commemorates the 1997 Anguilla International Arts Festival. The issue features five stamps, including the festival first prize winner, "Fresh Catch" by Verna Hart on the EC $1.50 stamp (shown right).
The Second International Art Festival will be held in Anguilla during the summer of 1999, July 25 to August 1, just before Carnival. Again there is a competition, with a first prize of $10,000, plus 4 in-depth workshops by experts in oil and acrylic, watercolour, pastel and stained glass. And the organizers have put together 4 packages to match any pocketbook. Watch for full details and entry form on their web page soon (artfestival.ai) or, if you can't wait, send your physical mailing address to Margie Morani at moronim@anguillanet.com and she will mail you a brochure and entry form.
Click the stamp or here to see all five stamps, including works by Melsadis Felming, Juan Garcia, Ricky Recaldo Edwards, and Valerie Alix.
Revised: November 15, 1998

---