International Art Festival A Big Success!
www.news.ai Site Map Click to enlarge pictures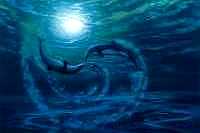 Anguilla's first International Art Festival ended just as Carnival revved up. The festival attracted 50 artists from many countries, including internationally famous George Sumner from Sausalito California (visit his his web site). George Sumner was recognized by President Clinton for his special painting for the 50 year anniversary of the United Nations. He is famous for his painting "The Peacemakers" of two dolphins kissing over the earth, which he presented to Gorbachev in 1988. His works hang in many prestiguous collections.
Mr Sumner prepared a special work to support the festival: "Moonlighting in Anguilla". He describes this painting as "a whimsical view of dolphins at play (on vacation maybe) under a full moon." This art work is for sale, with proceeds helping to finance the next festival in two years. Posters of "Moonlighting" are available at the Devonish Art Gallery in George Hill Landing (809-497-2949) for $25, or $50 signed by the artist.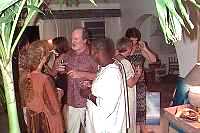 The festival was created and organized by Courtney Devonish, pictured here talking to George Sumner. He put in an incredible amount of work to make this come off. The festival kept the many artists busy with a packed schedule of events, including a children's art workshop with a children's competition. Organizers felt it was a success. The artists on Anguilla were ecstatic to have so many talented artists to talk and exchange ideas with, and create intellectual ferment.
The artists have until winter to finish their submission of a painting, watercolour, or drawing based on an Anguillian theme, and send it to Anguilla. The judging for the $10,000 first prize will be in January 1998.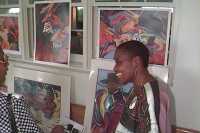 The sidewalk art show and sale at the post office drew a good crowd. "Moonlighting" was on display and George Sumner was kept busy the entire time signing prints. Here is a picture of a portrait being painted and a serious conversation.
Register For the Next Art Festival

2nd International Arts Festival
Revised: December 22, 1998

---