Agricultural Fair 1999
www.news.ai Site Map Click to enlarge pictures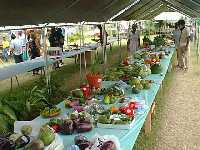 January 89-30, 1999 was the annual Agricultural Exhibition in Anguilla. The show is like a small "county fair" and is held on the grounds of the Agriculture Department, which is up Coronation Blvd toward Koal Keel restaurant.
Farmers enter their fresh crops and animals in a competition for awards: pumpkins, sweet peppers, goats, chickens, sheep, beekeeping, ...
There is produce and local honey for sale, or you can buy a souvenir T-shirt. Listen to music, eat barbeque and traditional local food and drink. Enjoy browsing through art and craft booths, even buy some plants or fertilizer.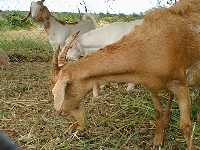 School children go on class outings to the fair on Friday to learn about farming and farm animals.
If you want to try local farm products while staying in a villa, drop by the Agriculture Dept and see what they have for sale. There is usually a selection of produce, fruit, honey and rabbit meat.
The official booket for the fair was $5 EC: "Annual Agricultural & Industrial Exhibition". With articles on bee-keeping, jollification, growing broccoli, a recipe for Sorghum Johnny Cakes, and many other topics.
Theme for 1999 is "Farm Today or Starve Tomorrow". Produced by the National Farmers Association and the Deptartment of Agriculture. Read the article on the 1998 fair.
Revised: February 02, 1999

---
Net Yellow Pages